For Immediate Release:
September 6, 2023
Contact:
Sara Groves 202-483-7382
Atlanta – PETA is offering a reward of up to $5,000 for information leading to the safe recovery of Maia, a black Chihuahua mix who reportedly escaped from her carrier while airport staff were transferring her outside the terminal buildings at Hartsfield-Jackson Atlanta International Airport on August 18. PETA's reward is in addition to the $1,000 offered by Maia's guardian, Paula Rodriguez, and brings the possible claimable amount to as much as $6,000.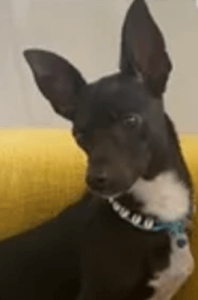 Photos courtesy of Paula Rodriguez
"We are asking everyone to look hard for Maia, who may be hiding, so that she can go home to the people who love her and to provide any information that could lead to her recovery," says PETA President Ingrid Newkirk. PETA shared information about the reward offer in a letter sent this afternoon to airport officials.
Rodriguez was flying on Delta Air Lines with Maia from the Dominican Republic to San Francisco when she was detained during their layover in Atlanta due to problems with her tourist visa. She was booked into a detention center overnight after her visa was canceled but wasn't allowed to have Maia with her during that time. Although Rodriguez was told that she would be reunited with Maia in the Dominican Republic, the dog wasn't there when Rodriguez arrived. Delta Air Lines later reported that Maia had escaped from her carrier in Atlanta.
Rodriguez's sister has created a GoFundMe page with a goal of raising $15,000 to help pay for professional detectives, legal consultation, reward flyers, and other expenses during their search.
Anyone who has seen Maia or knows where she may be is urged to contact PETA at 757-622-7382.
PETA—whose motto reads, in part, that "animals are not ours to abuse in any way" and which opposes speciesism, a human-supremacist worldview—warns everyone against transporting animal companions in the cargo area of airplanes, where they may suffocate, freeze to death, or become lost in transit.
For more information, please visit PETA.org, listen to The PETA Podcast, or follow the group on X (formerly Twitter), Facebook, or Instagram.