Every year, thousands of monkeys are abducted from their homes and taken away from their families or bred on squalid factory farms to satisfy U.S. experimenters' insatiable appetite for victims. The animals are thrust into cramped crates and loaded into airplane cargo holds, where they're forced to languish in darkness and their own waste as they're transported around the globe. This sordid trade is rife with illegal activity and endangers wild monkey populations and the public. Help us shut it down.
PETA Supporters Swoop Into Dulles Airport With 'No More Monkey Business' Message for Congress
December 22, 2022
In response to reports that AELF FlightService's Maleth Aero airline has flown thousands of long-tailed macaques from Cambodia and Vietnam into Dulles International Airport in Virginia, PETA supporters descended on the departures hall with signs reading, "Congress: No More Monkey Business! Stop Primate Imports!" The demonstrators urged legislators traveling home for the holidays to direct the Centers for Disease Control and Prevention to end all shipments of monkeys to U.S. laboratories.
---
PETA Primatologist Exposes the Dark Underworld of the International Monkey Trade on NBC Nightly News
December 16, 2022
U.S. TV viewers settling in for their nightly dose of the nation's top stories received a disturbing primer on the ethically and ecologically disastrous monkey-importation industry from PETA primatologist Dr. Lisa Jones-Engel: "[We're] literally hoovering these monkeys out of the forest. We are wiping these monkeys off the face of this planet." Watch the full segment.
This is UNACCEPTABLE Shipping monkeys to laboratories is holding modern science back and is driving monkeys to the brink of extinction. PETA primate scientist Dr. Lisa Jones-Engel explains this dire situation on @NBCNightlyNews. pic.twitter.com/97ed6pdt83

— PETA (@peta) December 17, 2022
---
Busted! PETA Calls Out Inotiv and Worldwide Primates for Apparent Role in Monkey-Smuggling Ring
November 23, 2022
Color us (not) surprised: PETA sleuths have determined that Inotiv and Worldwide Primates—two companies so unconcerned with ethical conduct that they gleefully import thousands of monkeys to be abused and killed in laboratories each year—are the likely U.S.-based unindicted coconspirators who aided Cambodian officials in tearing monkeys away from their forest homes and illegally passing them off as captive-bred. PETA is calling on both companies to identify any illegally imported monkeys in their facilities and release them to reputable U.S. primate sanctuaries, where they would enjoy the rest of their lives free from exploitation.
We've been shouting for @CDCgov to end monkey imports, & now the owner of Envigo's dog breeding facility is feeling the heat!

Inotiv's stock PLUMMETED after employees of its main supplier were charged with ILLEGALLY importing monkeys to the U.S. https://t.co/q9s877gHRh

— PETA (@peta) November 18, 2022
---
Are NIH-Funded Labs Full of Illegally Imported Macaques? Amid Monkey-Smuggling Scandal, PETA Demands Accountability
November 21, 2022
Following the U.S. Department of Justice's (DOJ) indictments of Cambodian officials and others for conspiring to import wild-caught monkeys into the U.S. illegally by passing them off as captive-bred, PETA is demanding that the National Institutes of Health (NIH) extricate itself from this tangled web of criminal activity by identifying any laundered monkeys in laboratories it funds and transferring them to reputable sanctuaries. As PETA notes in its letter to NIH, more than 74,000 long-tailed macaques have been imported into the U.S. from Cambodia since 2017 and the presence of even one laundered wild-caught monkey invalidates the transport permit for the whole shipment. The disturbing result? U.S. government–funded laboratories are likely benefiting from the misery of thousands of victims of this illegal trade.
---
Feds Indict International Monkey Smugglers Who Supply U.S. Labs; PETA Rejoices
November 16, 2022
"Prosecute them to the fullest extent of the law—and if they're convicted, don't ever let them near another monkey again," PETA's urging the DOJ following the news of its indictment of eight individuals allegedly involved in an international monkey-laundering and -smuggling ring. The indicted parties—including Cambodian government officials and nationals as well as the owner and staff of Vanny Bio Research (Cambodia) Corporation Ltd., a monkey-breeding farm—allegedly falsely labeled wild-caught monkeys as captive-bred and illegally imported them to the U.S. for sale to laboratories, in felony violation of both the Lacey Act and Endangered Species Act.
PETA is urging the @CDCgov to end the importation of monkeys for experiments.@TheJusticeDept has just indicted individuals allegedly involved in a monkey-laundering ring that reportedly sold monkeys captured from their forest homes—a felony violation. https://t.co/SbdhZJYUtV

— PETA (@peta) November 22, 2022
---
Macaque Population Crash Prompts PETA Plea to CDC: Stop Monkey Shipments Now
July 27, 2022
Thanks in no small part to U.S. experimenters' voracious demand for victims, long-tailed macaques and pig-tailed macaques are careening toward extinction—and PETA's urging the Centers for Disease Control and Prevention (CDC) to shut down the forest-to-laboratory pipeline before it's too late. PETA's plea to the CDC to end U.S. monkey imports follows the International Union for Conservation of Nature's (IUCN) alarming reclassification of both species from "vulnerable" to "endangered," a change that the IUCN itself partly attributes to the species' popularity in biomedical experimentation.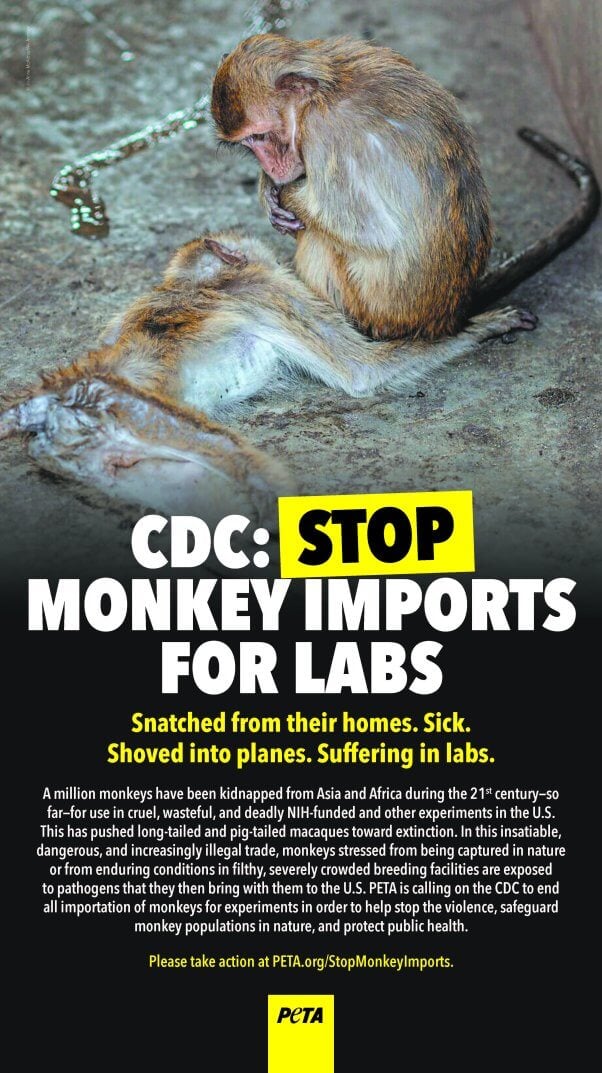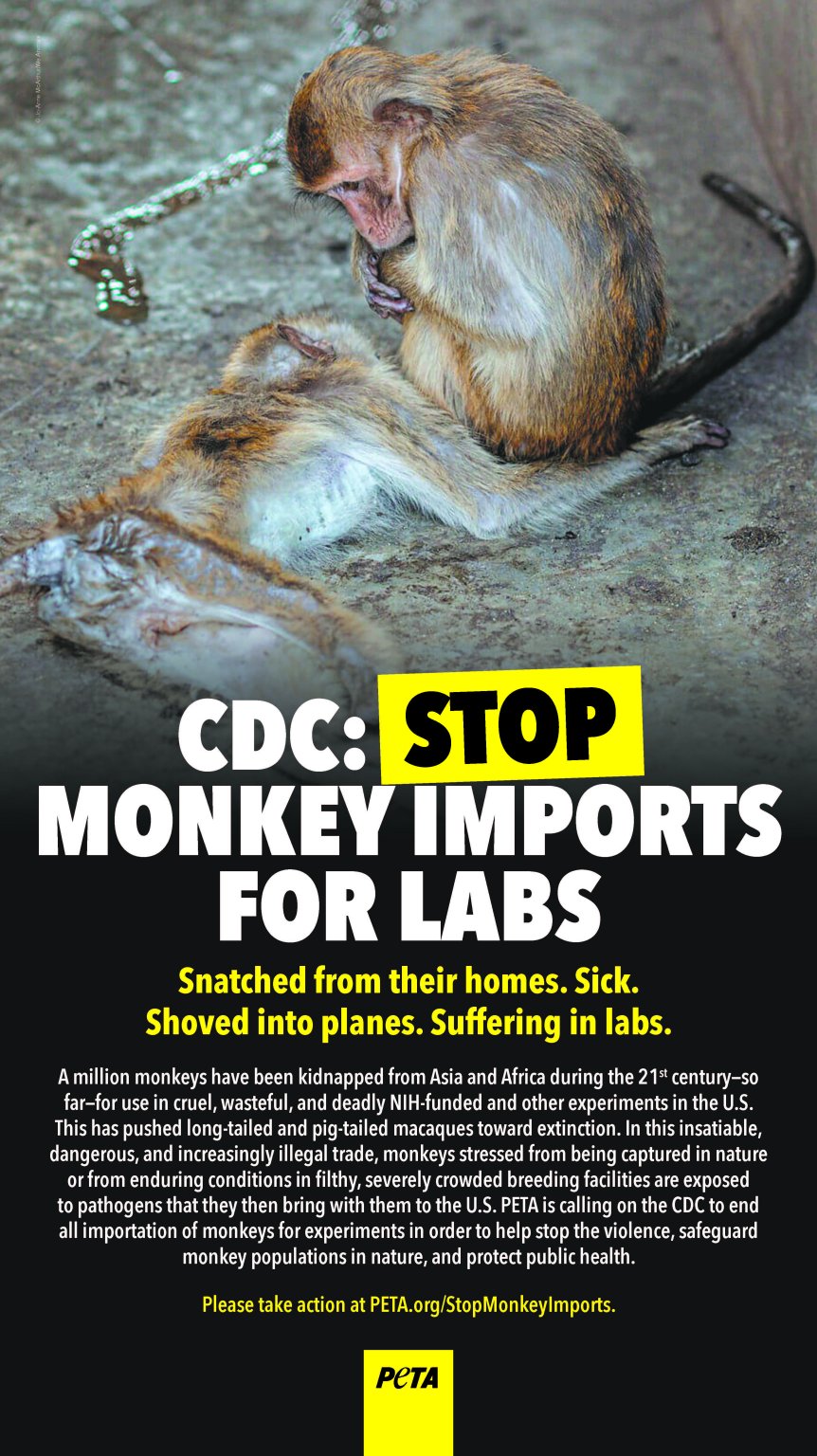 ---
Monkey Pipeline Pours Deadly Pathogens Into U.S.—PETA Urges CDC to Stop the Flow
July 6, 2022
Monkey shipments can harbor some sinister stowaways: the pathogens that cause melioidosis, dengue fever, leprosy, and other conditions. Every batch of imported primates increases the risk that one of these nasty pathogens will infect the public. PETA dashed off a letter to the CDC urging it to stop putting public health in peril and end the shipment of monkeys to U.S. laboratories immediately.
*****
What You Can Do
Click the button below to join thousands of PETA supporters in urging the CDC to shut down the violent monkey-abduction pipeline.
Take Action