For Immediate Release:
September 29, 2023
Contact:
Sara Groves 202-483-7382
Stratford, Conn. – PETA is offering a reward of up to $5,000 for information leading to the arrest and conviction of the person(s) who abandoned 15 black cats in cages without food, water, or shelter from the elements near the intersection of Main Street and River Road in Putney over the weekend. PETA's reward is in addition to one offered by Stratford Animal Rescue Society and brings the total potential reward to as much as $5,500.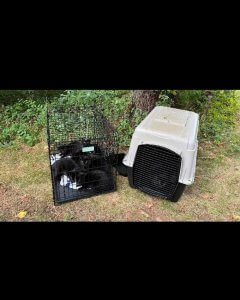 Photos courtesy of the Stratford Police Department
According to Stratford police, the cats were reported to the department and found just before heavy rains started. The wet cages were covered in feces and urine, making fingerprinting impossible.
"Animals rely on us to protect them, but instead, someone dumped these cats on the roadside, where they could have starved in the pouring rain," says PETA Senior Vice President Colleen O'Brien. "If any other animals remain in this person's custody, they could be in imminent danger, which is why PETA urges anyone with information about this case to come forward immediately."
Tipsters should contact Detective Jennifer Murolo with the Stratford Police Department at [email protected] or 203-385-4127.
PETA—whose motto reads, in part, that "animals are not ours to abuse in any way"—opposes speciesism, a human-supremacist worldview. For more information, please visit PETA.org, listen to The PETA Podcast, or follow the group on X (formerly Twitter), Facebook, or Instagram.