The Motorola Razr 2023 has been revealed in some new leaked images, just seven months on from the launch of its predecessor – and they suggest it'll come in a fancy two-tone design that has echoes of the original clamshell phone.
The new photos, from reliable leaker Sudhanshu Ambhore (opens in new tab) and spotted by 91Mobiles (opens in new tab), are the first real-world images we've seen of the upcoming foldable phone. And while they don't reveal a huge amount about the Samsung Galazy Z Fold 4 rival's specs, they do show a phone that'll be half grey, and half magenta.
That flash of color has echoes of the Motorola Razr V3's hot pink version, which landed back in 2006. Understandably, the Razr 2023's shade isn't quite as garish as its distant ancestor, which somewhat divided opinion at the time. But it is a lot more fun than last year's model, which stuck to 'satin black' paint job despite rumors of a 'tranquil blue' version.
We don't yet know if this will be one of many Razr 2023 color options, but the two-tone look at least makes its distinct from its predecessor, which only arrived last August. Along with the option of a magenta (or perhaps burgundy) lower half, the upcoming Razr promises to bring a few handy hardware upgrades.
A previous leak suggested that the Razr 2023 will likely get a larger cover display than the 2022 version, with the external screen seemingly wrapping around the camera lenses and filling almost half of the phone. It's hard to tell if this jives with the new leaked photos, as the phone is powered off – but it'd certainly be a big usability upgrade. 
Elsewhere, the 91Mobiles leak suggests we can expect to see some slightly improved cameras (with the main rear camera bumped from 50MP to 64MP) and a larger 4,000mAh battery. It's a combination that could see the Motorola Razr 2023 become an even more serious challenger in our guide to the best foldable phones, and it looks like we won't have to wait long to find out.
---
Analysis: Foldables take the limelight back from rollables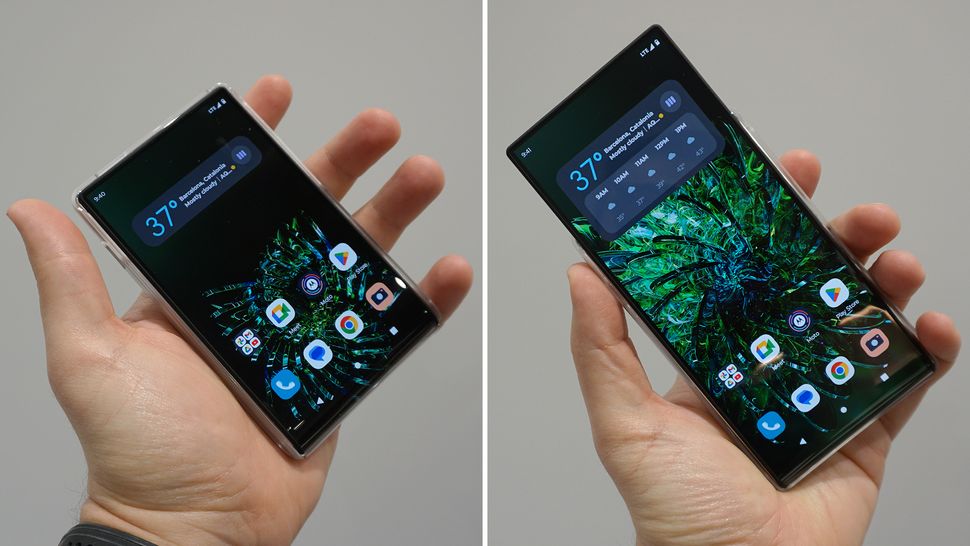 Motorola clearly doesn't just see foldables like the Razr 2023 as the future of its phone lineup – we're still thinking about the rollable concept it showed off at MWC 2023, which definitely has its benefits.
But it's clear that foldables are more mature and established, so much so that Motorola is starting to dabble in colorful new designs like the one in this leak. Whether its paint job and hardware upgrades are enough to see it leapfrog the Samsung Galaxy Z Fold 4 in our guide to the best foldable phones remains to be seen. 
Our Motorola Razr 2022 review found that its bigger drawbacks were actually performance-related, despite the inclusion of a speedy Snapdragon 8 Plus Gen 1 chip. In our testing, this was particularly the case when using its Quick View external display, so hopefully the new two-tone paint job has been matched by some internal boosts to its software optimization.
If so, it could well be a foldable that lives up to the name of its classic Razr predecessor, which was one of the most iconic phones of the 2000s and the best-selling clamshell phone ever made.