A still from Sierra Urich's documentary, "Joonam." Image Source: Sierra Urich
In September 2022, the death of 22-year-old Mahsa Amini in police custody in Tehran — for allegedly improperly wearing a hijab — set off unprecedented protests in Iran. These demands for accountability and shows of solidarity were led by young women, who made the chant "women, life, freedom" reverberate across the world.
In a country rife with political conflict, an increasing number of arrests and executions has encouraged women to continue to speak out against the regime's oppressive policies. During the last four months of protests, security forces have killed more than 500 protesters and have made an estimated 20,000 arrests, according to the activist news agency HRANA.
Despite the truly revolutionary spirit of these calls for change, it seems the Western world has moved onto the next news cycle as protesters risk their lives on the ground. But at the 2023 Sundance Film Festival in Park City, UT, which concluded on Sunday, Iranian women's voices were heard. Several films written and directed by and featuring Iranian American women have created an important platform — they contextualize Iran's history within the present, as well as elevate the voices of people who make up its diasporic fabric today.
"People leave behind so much to come to this country and are met with a lot of tension."
"The Persian Version," for example, is rightfully making waves after its Sundance debut. Largely autobiographical, the film, written and directed by Maryam Keshavarz, took home both the prestigious Audience Award: U.S. Dramatic and the Waldo Salt Screenwriting Award. It tells the story of Leila (Layla Mohammadi), a queer New Yorker.
In the film's opening scene, Leila attends a costume party in a self-made burkini; she ends up sleeping with a Broadway singer and actor. The next morning, in a voice-over, she reflects on her own upbringing and how she never fit into either American or Iranian culture as an Iranian American woman. We see scenes of her smuggling Cyndi Lauper's cassettes on trips back to her home country of Iran, then being told by her peers there to "go back to where she came from." In America, Leila attempts to be the "all-American girl" but is mocked instead.
Maryam Keshavarz accepts the Audience Award: U.S. Dramatic for "The Persian Version" at the 2023 Sundance Film Festival. Image Source: Getty / Michael
The film also explores the strained relationship between Leila and her mother (Niousha Noor) when the pair are forced to interact as a result of Leila's father's deteriorating health. Through these conversations, Keshavarz clearly lays out the sacrifice many immigrants make and the lengths they need to go to reconcile their dual identities — and the enduring notion of the American Dream.
"Even though Leila was born in America, she herself is trying to pursue the American Dream," Keshavarz tells POPSUGAR. "The American Dream is redefining yourself and being the fullest and most articulated version you can be. People leave behind so much to come to this country and are met with a lot of tension. For Leila, it's a constant battle of what she perceives as her identity and what others project onto her."
Keshavarz uses time creatively in her storytelling to represent the fluidity of identity; the film contains multiple flashbacks and scenes that juxtapose life in Iran to the characters' current realities and the sacrifices they've made.
"Our families sacrifice so much for us," Keshavarz adds. "Showcasing these sacrifices is important to create empathy and to better understand the elements of Leila and her mother and what was given up to come to this country. Leila sees all that her mother has sacrificed, and with her mother's narration, we see the new identity she creates here in the States. Between the two, you find a better understanding."
"We've been living with this for decades."
"The Persian Version" is heavily inspired by Keshavarz's own life, she says, so the characters are based on her and her family. She also explains that she wanted to create a film that depicts the truth behind her mother's actual life and bridges both her Iranian and American worlds.
As she puts it: "Though the instances are not in the same order, this film is based on my life. Once upon a time, I set a goal to create a film that is about my culture and my community."
Another Sundance favorite, "Joonam" (which is a term of endearment in Farsi), highlights the narratives of strong-willed Iranian women. The documentary explores the relationships between three generations of women through the lens of Iranian American director Sierra Urich. Filmed in Vermont, Urich sets out to reconnect with her Iranian heritage and learn the Farsi language. Despite her limited connection to her Iranian roots, she digs deeper into her mother and grandmother's stories to understand her own identity.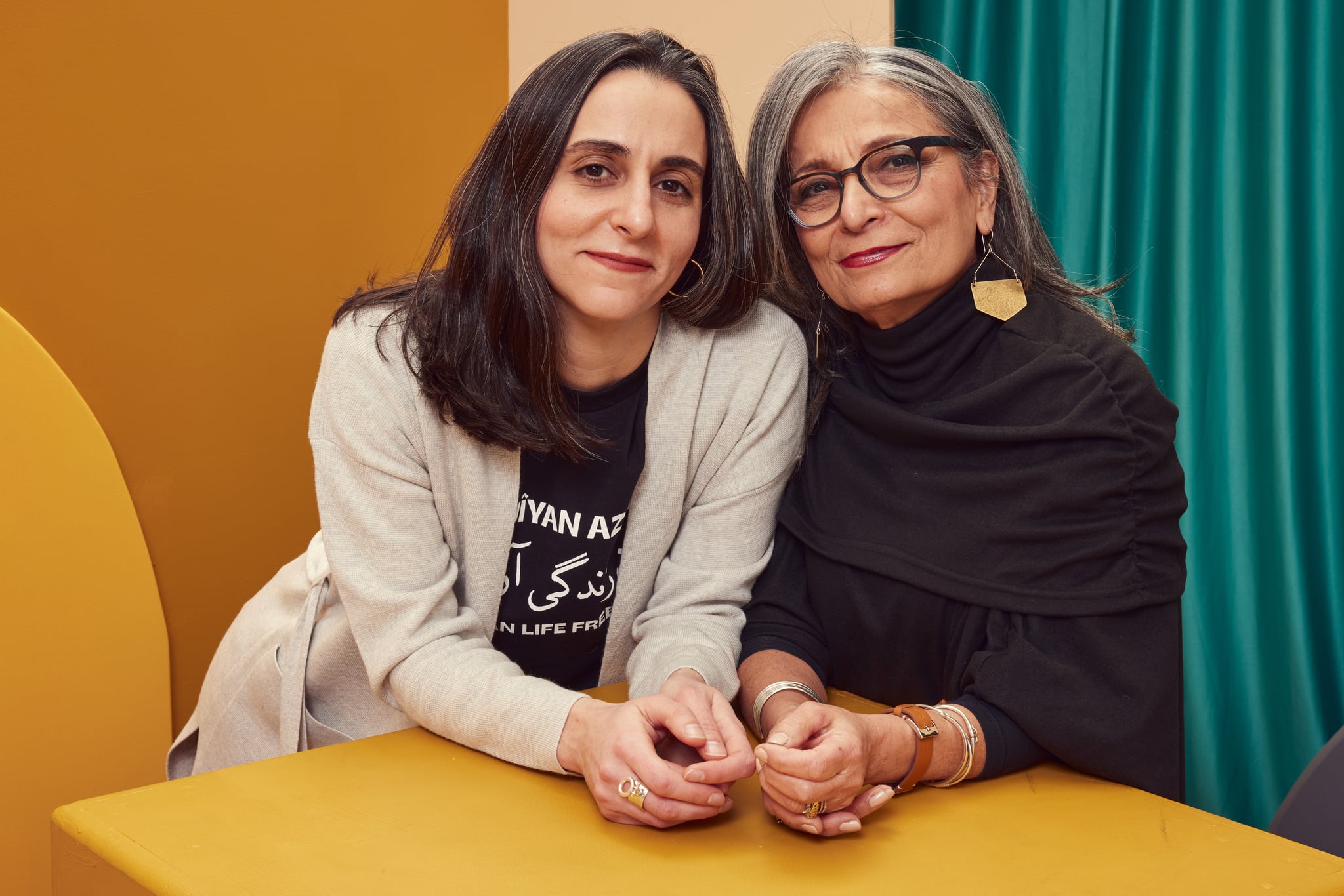 Sierra Urich and her mom, Mitra Samimi Urich, pose for a portrait at Sundance. Image Source: Contour by Getty Images for Stacy's Pita Chips / Emily Assiran
In one scene, she has a moment of self-reflection in which she realizes that a visit to Iran would be too dangerous given the country's political climate, military sanctions, and ongoing conflict with the United States — but this happens years before the onset of recent protests. This realization creates a sense of urgency to capture the intimate details of her family's legacy, including her grandmother's experiences as a preteen bride and her mother's rebellious teenage years during the Iranian Revolution. The film took five years to film and edit, and though Urich started it before the current women-led protests, it's an especially timely meditation on what it means to be Iranian American in this moment.
"What's really important about this film is that it's a portrait of a loss of home," Urich tells POPSUGAR. "While I've never been to Iran and I don't have personal ties to what's happening today, this is what the diaspora has been experiencing for 40 years. Right now, the whole world is interested and paying attention to what's going on, but we've been living with this for decades. Seeing people rise up and push back is deeply moving on many levels and is striking a conversation about disconnection."
As Keshavarz and Urich explain, their objectives in making these films are not to educate viewers about the political or economic relations between Iran and the United States, but instead to offer a humanizing account of the injustices Iranian women face and how they battle against them in their everyday lives.
"Shayda" is another Sundance premiere this year that aims to do that — it captures the sacrifices a mother makes for her daughter. The story follows the titular Shayda, a resilient Iranian woman who finds refuge in an Australian women's shelter with her young daughter after enduring domestic abuse at the hands of her ex-husband. At its heart, it's a movie about escaping toxic masculinity and the overbearing patriarchy he represents.
These empathetic storylines are compelling tools: they foster a deeper understanding of what being an Iranian woman really means. In the aftermath of Amini's brutal death, the true power of cinema is giving women the agency to share their own narratives, on their terms.
As Urich explains: "'Joonam' is a personal piece about how loss of home ripples across generations. I'm most hopeful that people see the authenticity of Iranians and the film when they watch it."