On Animal Companion or "Pet" Memorial Day, we honor animals we loved and those who loved animals. Grieving the death of a "pet," family member, or friend is painful, but there are many things you can do to cope with the loss and honor their memory. Read on for five tips from PETA to help pay homage to a deceased loved one.
Why Should I Celebrate 'Pet' Memorial Day?
Your animal companion is a member of your family. Much as when a parent, sibling, spouse, or dear friend dies, the grief over the loss of an animal companion can be overwhelming and even debilitating. When faced with loss, keeping your feelings to yourself or denying them altogether can be unhealthy. Fortunately, there are ways to cope with the death of your loved one and honor their memory—on Animal Companion Memorial Day and every day—and you can even help other animals while you grieve.
5 Ways to Honor Your Animal Companion's Memory
1. Light a vegan candle in their honor.
2. Volunteer at an animal shelter, or donate vegan dog food to those in need.
3. Plant an animal-safe flower or tree in their memory.
4. Visit their burial site or the location where their ashes were scattered.
5. Create a True Friends Memorial page on PETA's website.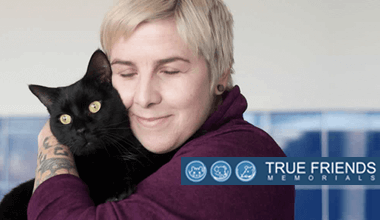 What Is a True Friends Memorial Page?
A true friend is someone who is always by your side and loves you unconditionally. Losing such an individual is always difficult, but sharing memories of special animal companions or friends to animals can help us heal and guarantee that their love is never forgotten. People can visit the True Friends Memorial page you create, leave special reminiscences, and make a donation in their friend's honor that will have a lasting impact and improve the lives of not-so-lucky animals.