For Immediate Release:
September 7, 2023
Contact:
Nicole Perreira 202-483-7382
New York – A PETA supporter—nude except for bodypaint revealing realistic "flesh," "tendons," and "muscle" and a message on her chest reading, "Coach: Leather Kills"—has stormed the Coach fashion show at the New York Public Library Main Branch alongside two other animal advocates to slam the brand for its cruelty to cows and its reliance on environmentally destructive leather products. Video of the runway takeover is here.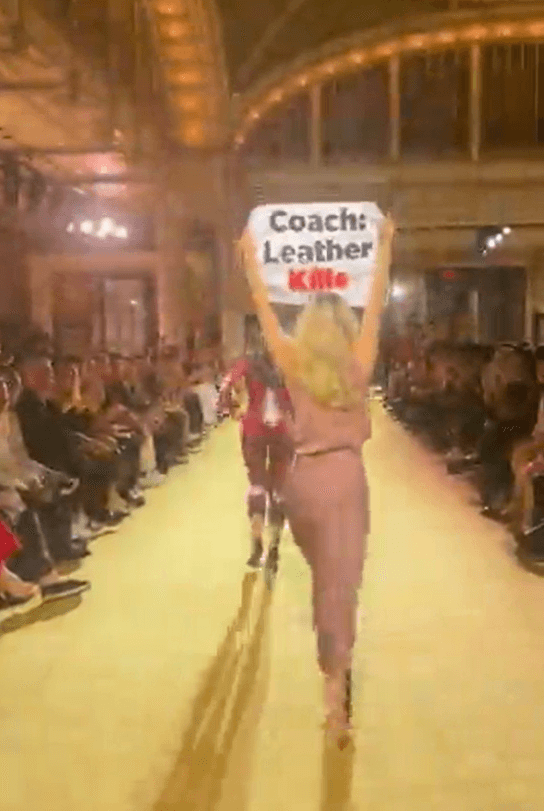 "Today's conscientious consumers know that the future of fashion lies in innovative vegan materials, not in cows' sliced-off skin," says PETA Executive Vice President Tracy Reiman. "PETA is shaking up Coach's catwalk to drive home the message that leather belongs in the annals of history, not in designers' current collections."
At slaughterhouses, cows killed for leather may be skinned and dismembered while they're still conscious—after they endure castration, tail-docking, and dehorning, without any painkillers, on farms. A PETA exposé of the world's largest leather processor—which has supplied Coach—showed that workers brand calves on the face, beat cows and bulls, and shock them with electric prods.
PETA—whose motto reads, in part, that "animals are not ours to wear"— opposes speciesism, a human-supremacist worldview. For more information, please visit PETA.org, listen to The PETA Podcast, or follow the group on X (formerly Twitter), Facebook, or Instagram.