For Immediate Release:
September 11, 2023
Contact:
David Perle 202-483-7382
Los Angeles – In recognition of the many times he's used his celebrity platform to promote compassion for all species, yesterday PETA Senior Vice President of Communications Lisa Lange presented Battlestar Galactica and Mayans M.C. star Edward James Olmos with a Humanitarian Award in the presence of PETA members and supporters gathered on the rooftop of the organization's Bob Barker Building for a "super brunch" catered by chef Tal Ronnen and Crossroads Kitchen.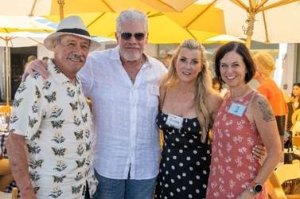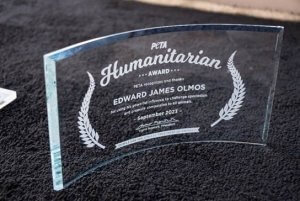 "Most people love their dogs and cats and would be horrified to see them hurt in any way," said Olmos in an acceptance speech. "Why do we not apply the same understanding to the chickens and pigs we eat, the snakes and cows we wear, or the mice we poison and burn in laboratories? It's only speciesism that allows that, and … we have to fight against it."
Recently, Olmos lent his voice to the wise coyote in PETA's Council of Animals, a massive sculpture display that was exhibited on the National Mall in Washington, D.C., just a stone's throw from the Capitol, featuring a 7-foot-tall polar bear; a towering, 1,200-pound elephant; and a 6-foot-tall rhinoceros with a chicken perched on his back.
Olmos also stars in Spanish- and English-language radio and video spots for PETA and PETA Latino urging people to keep their animal companion safe during fireworks displays and appears with his beloved dog, Moe, in public service announcements encouraging fans to bring their animal companion indoors and treat them like family.
"Edward James Olmos never misses an opportunity to use his powerful platform to defend animals," says PETA President Ingrid Newkirk. "PETA is presenting him with our Humanitarian Award for encouraging everyone to treat animals with the compassion and respect they deserve. He's a hero to animals. So say we all."
Olmos is part of a long list of celebrities—including his Mayans M.C. costars Emilio Rivera and Patricia De León , Blade Runner 2049 costar Ryan Gosling, and Battlestar Galactica costars Tricia Helfer and Katee Sackhoff—who have teamed up with PETA and PETA Latino to promote kindness to animals.
PETA—whose motto reads, "Animals are not ours to experiment on, eat, wear, use for entertainment, or abuse in any other way"—opposes speciesism, a human-supremacist worldview. For more information, please visit PETA.org, listen to The PETA Podcast, or follow the group on X (formerly Twitter), Facebook, or Instagram.