For Immediate Release:
September 5, 2023
Contact:
Moira Colley 202-483-7382
Los Angeles – Bob Barker has passed on, but PETA has begun talks with Los Angeles City Council Member Hugo Soto-Martinez to honor the contributions of the legendary game show host and animal rights advocate to both the City of Angels' entertainment industry and animal welfare by renaming the Echo Park portion of Sunset Boulevard, where the Bob Barker Building, PETA's L.A. headquarters, is located.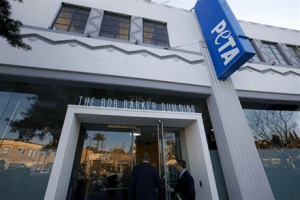 Photos: PETA
"An honorary 'Bob Barker Boulevard' would be a fitting tribute for the television icon, who never hesitated to help when animals were in trouble and who was the man responsible for PETA's opening of its West Coast headquarters in the entertainment capital of the country," says PETA President Ingrid Newkirk. "Bob Barker was compassion personified, so we look forward to working with the city to remember him in a way that will inspire anyone who spots his name on the sign to make kind choices every day, just as Bob did."
Barker's many collaborations with PETA included urging families to stay away from SeaWorld, demanding the closure of cruel bear pits masquerading as tourist attractions, imploring Hollywood to take action to protect animals used in films and television, and, as a Navy veteran, calling for the end of military medical drills on live animals.
PETA's Bob Barker Building—established thanks to a generous donation from Barker—features a portrait of him in the foyer as well as a display shelf with one of his Daytime Emmy awards (1998), his MTV Movie Award for Best Fight (1996), and his WWE Slammy Award for Best Raw Guest Host (2009).
PETA—whose motto reads, in part, that "animals are not ours to abuse in any way"—opposes speciesism, a human-supremacist worldview. For more information, please visit PETA.org, listen to The PETA Podcast, or follow the group on Twitter, Facebook, or Instagram.