Just like humans, dogs and cats can develop sunburn—and too much sun exposure can lead to various types of cancer. Learn how to help your animal companions stay cool and sunburn-free this summer.
Can Dogs Get Sunburns? Yes! Here's How You Can Help Prevent It
Dogs with short fur or pink skin under their coats are more likely to get sunburned than long-furred, dark-skinned ones, but any dog could experience it if they're left outside in the sun too long. When outside, keep an eye on their ears, nose, and belly for pink or reddening skin—these are the spots that are the most prone to sunburn on dogs. If you notice mild sunburn on them, you can apply a dime-sized dollop of aloe vera gel to the affected area. If your dog exhibits discomfort or the irritated spot is red, a vet visit would be necessary.
To limit the risk of sun exposure, walk your dog either in the early morning before the sun is high in the sky or in the evening as it sets. These times of day have the coolest weather, helping to keep your animal companion safe from the dangers of extreme heat.
If a lot of sun is unavoidable, like when you and your dog are at an animal-friendly beach or on a hike, consider investing in dog-friendly sunscreen, dog vests, and other lightweight, breathable sun-blocking clothes. However, any extra layers could cause them to overheat in warm weather, so nix the clothes if your dog is panting heavily or seems uncomfortable, as these are warning signs of heatstroke.
Cats Can Suffer From Sunburn, Too
Responsible cat guardians know the dangers that come with allowing a cat to roam outside, but even cats who live indoors can get sunburned. Window lounging is the activity that comes with the biggest risk. If you notice reddening or flaky skin on your feline friend, consider UV-blocking windows, solar shades, or a UV curtain to help limit the risk of your cat's sunbathing time.
Catios (patios for cats) are an awesome way to let your cat enjoy a change of scenery without the dangers they—and local wildlife—face when outside without supervision. PETA's guide to catio-building will help you every step of the way, but just make sure that the set-up area you choose offers plenty of shade. When choosing building materials, be sure to account for ventilation. Once the catio is complete, avoid letting your cat use it during the hottest times of day to help prevent overheating and sunburn.
Help a 'Backyard Dog' This Summer
Many animal companions are left unattended outside all year round and forced to suffer through scorching heat in the summer and devastating cold in the winter. You can help "backyard dogs" by sponsoring a PETA doghouse today. Another effective way to help them is by working with elected representatives to pass ordinances that ban or restrict chaining. To get started, see what current legislation on tethering dogs exists in your community.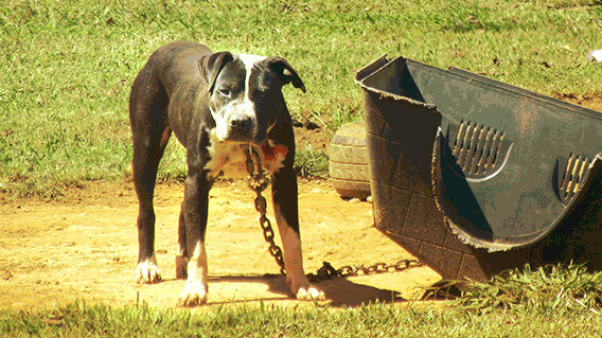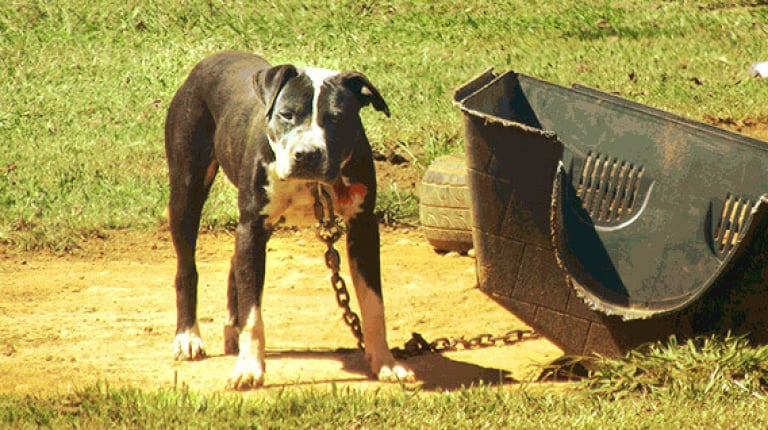 Dogs should never be left outside unattended, but when they're outside and deprived of access to water or shelter, the situation becomes an emergency—and local authorities should be contacted immediately. If they are unresponsive, contact PETA for help. Dogs' well-being—if not their lives—could depend on you.
If you see a chained dog in your area whose situation is not an emergency, read PETA's tips on how to help them: