The Dogecoin (DOGE) price experienced a whopping rally of over 35% at the beginning of the week after Twitter CEO Elon Musk replaced the Twitter logo with the Dogecoin mascot, a Shiba Inu. Initially without comment, the image changed until Musk spoke up.
Musk shared a cartoon drawing of the Dogecoin dog sitting in a car with his driver's license being checked by a police officer. In the ID document, the Twitter logo can be seen in the place of the image, with the dog saying, "That's an old photo."
— Elon Musk (@elonmusk) April 3, 2023
In his usual manner, Musk has thus once again triggered a massive DOGE pump. But now the question is whether the price increase is sustainable and currently only consolidates or whether DOGE will drop back to its price level before Musk's action.
Can Dogecoin Continue To Rise?
On-chain analytics service Santiment released an analysis today in which they examine the sudden Dogecoin pump and the implications of it. Brian Quinlivan, Director of Marketing at Santiment, writes in his analysis that crypto Twitter has predictably reacted to the action with "polarizing" opinions.
"Most know by now that when Elon does something on Twitter, it's usually for the purpose of getting laughs, attention, or money. Perhaps in this case, all three were achieved," Quinlivan states.
Santiment's data shows that discussion rates for Dogecoin "absolutely exploded." However, the price spike ended almost immediately thereafter, followed by a second spike as the volume cooled over the inorganic spike. Quinlivan adds:
But like any asset, no matter how meme-ified, we can still take things away from this and analyze what exactly is going on now that prices have calmed down a bit and $DOGE has corrected back -9% from its shocking surge.
According to the Santiment analyst, there were numerous top signals that indicated exactly when key players exited the trade or at least took large profits. Quinlivan also speculates that these players "probably knew about the planned DOGE pump."
Active addresses and circulating volume, trading volume and transaction volume, as well as whale transactions (over $100,000) all increased rapidly, decoupling from the rest of the crypto market. According to the analyst, this was a "pretty solid bet" that the price formed a local top at $0.1047.
On the other hand, the 30-day Market Value to Realized Value (MVRV) suggests that DOGE could have further upside potential. The value is currently at +11%, which means there is room to the upside:
Typically when altcoins hit +20% or more, this is a "danger zone". Considering it didn't quite get that high, even with the massive Elon-induced price surge, there could still be some extra cushion for prices to rise further.
Whales Take Profits
However, an analysis of DOGE addresses, divided by size into fish (0-10 DOGE), dolphins (10-10,000 DOGE), sharks (10,000-10 million DOGE) and whales (10 million or more DOGE) must be considered rather bearish.
While the smallest fish addresses bought aggressively when the price peaked, dolphins and sharks showed no signs of getting involved in the rally at the local top. Instead, their downward trend of the past six weeks continued.
Whales were showing signs of accumulation before Musk's action. However, interest plummeted when the DOGE logo appeared on Twitter and the price hit its top. Quinlivan remarks:
It was likely something was known by massive DOGE holders, eg. people close to him, and of course Elon himself. This is just speculation, of course, without knowing the identities of the owners of these addresses.
At press time, the Dogecoin price stood at $0.08910. A daily close above $0.08891 could be of significant importance to reignite the upside potential mentioned by Santiment.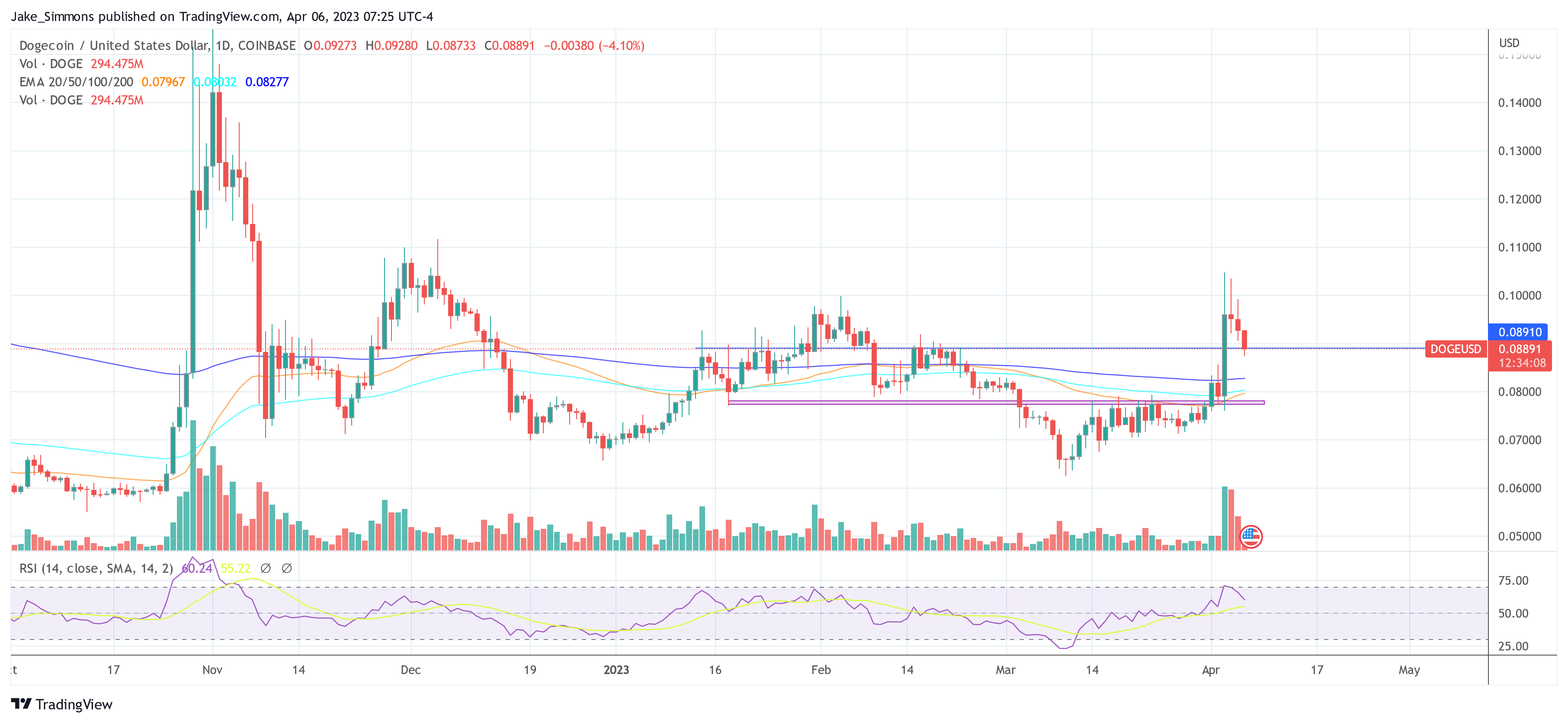 Featured image from iStock, chart from TradingView.com