Join Our Telegram channel to stay up to date on breaking news coverage
The immersive battle card strategy game – Calvaria – recently introduced a new staking system to help secure the network and reward its users with some additional tokens. The staking platform is now live while the P2E game continues to be under development, with a scheduled release expected at some point in Q2.
Calvaria isn't just any play-to-earn game seeking to help players earn an income. Instead, it intends to become an ambassador for crypto by attracting a wave of non-crypto natives into the Web3 play-to-earn ecosystem.
Calvaria: A Battle Card Strategy Game Ready for Q2 Launch
Calvaria is the latest exciting addition to the play-to-earn sector that lets players earn real-world rewards for participating in gameplay. The game is an immersive battle card strategy experience that is touted to become one of the best upcoming crypto projects in 2023.
The flagship game behind Calvaria is called Duels of Eternity. Similar to the Pokemon trading card collection game, Calvaria has high-quality graphics and addictive gameplay to make it stand out apart from its competition.
In the game, players are required to play with strategy in an effort to outsmart their opponents' next move in a turn-based action game. The strategy development often occurs before the match has even started, where players have to come prepared with the right set of cards. In the battle, players have to choose the correct order of cards and use their abilities when required.
If a player wins, they're rewarded with tokens in the game. They can also receive resources and power-ups to strengthen their own decks. The overall aim of the game is for players to build varied decks of cards for themselves to become as competitive as possible in the turn-based strategy game.
The game recently concluded a presale for its native token, RIA, which was incredibly successful. RIA is the rewards and transactions token that will power the entire ecosystem, and the token will be needed to purchase NFTs (the playing cards in the battle card game) within the ecosystem.
Calvaria is still under development, but the team is expecting a release at some point in Q2 2023.
Calvaria Introduces Staking System Ahead of Game Release

Ahead of the game release, Calvaria recently announced that it had introduced a staking system to its platform, allowing users to come and secure the network while being rewarded for their efforts.
The new staking system allows players to come with their RIA tokens and "sacrifice" them to deities at two separate "Alters." Each Alter is just a staking pool offering different rewards with various requirements. For example, one of the pools is for long-term staking, requiring users to lock their tokens up for a set period, while the other is for short-term staking.
You can easily access the staking system through the homepage.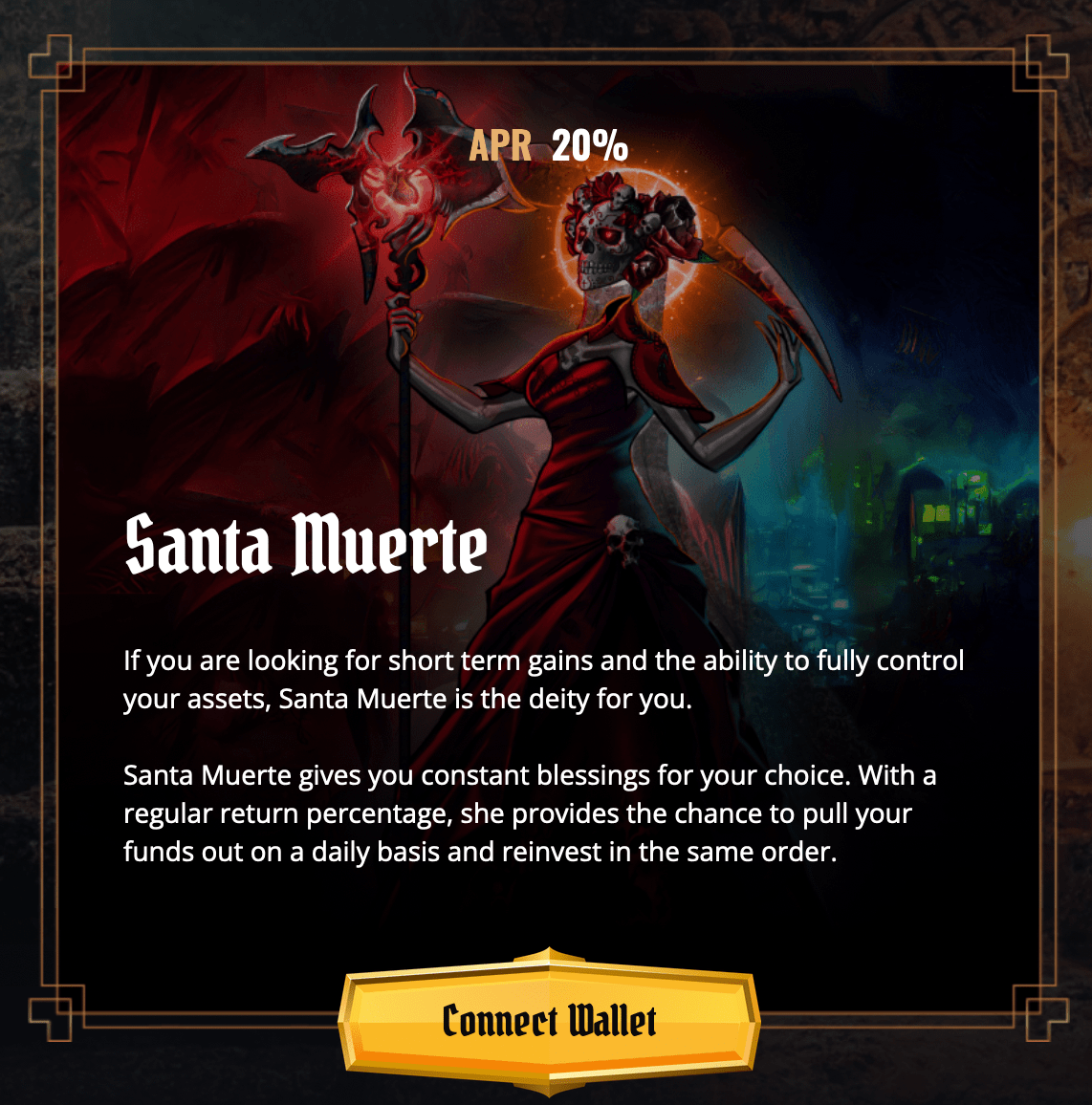 The first staking pool occurs at the Santa Muerte altar, which should provide up to 20% APY. This is a short-term staking pool that allows users to keep control of their assets without requiring them to be locked. This staking pool provides a regular return percentage for staking and will enable investors to pull out funds on a daily basis. Alternatively, they could reinvest their rewards into the staking system to earn more rewards.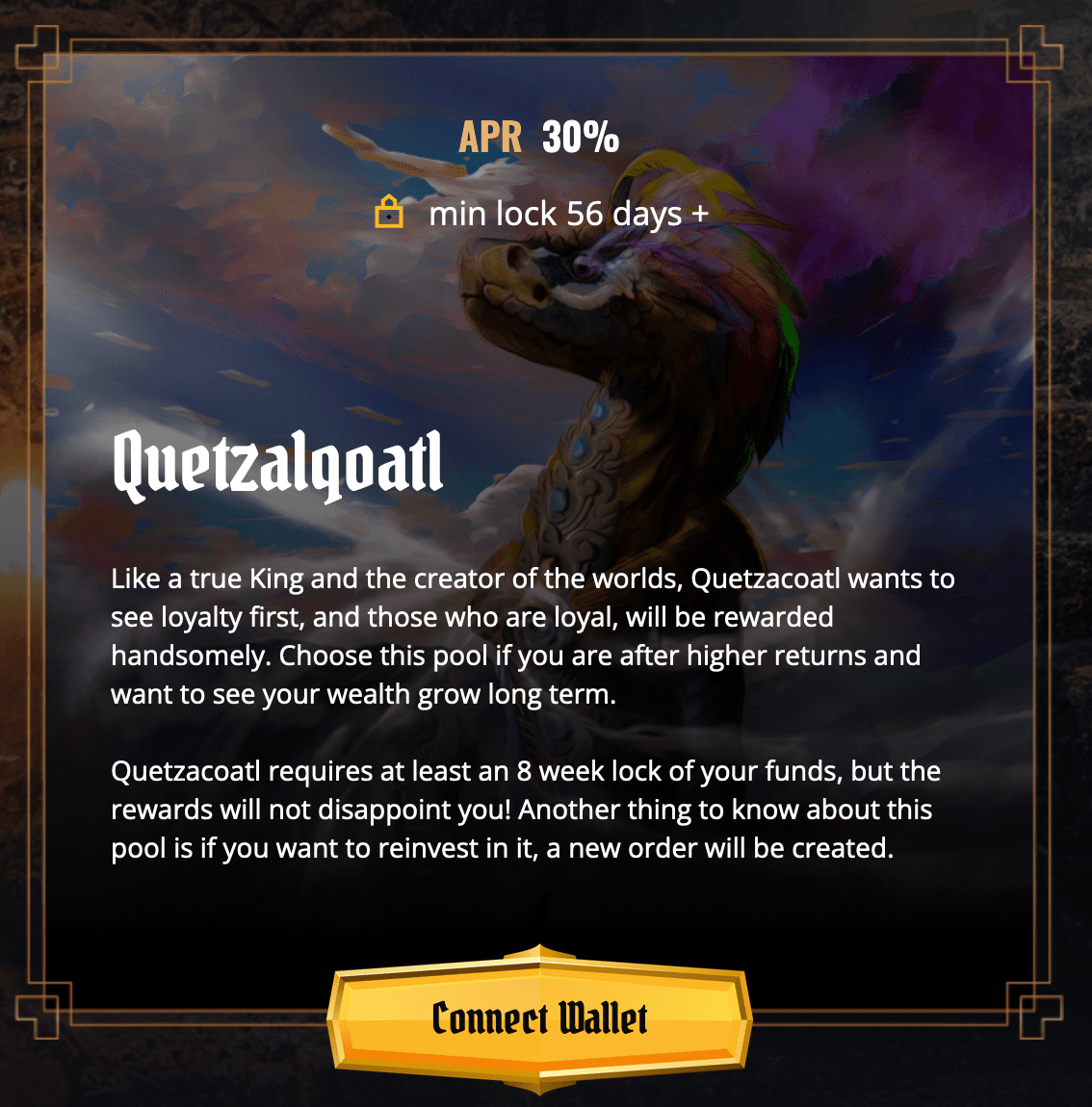 The second staking pool occurs at the Quetzalcoatl Altar, which is estimated to provide a return of up to 30%. As this is a long-term staking option, the deity at the altar wants to see loyalty from stakes and, therefore, requires stakers to lock their tokens in for a period of at least eight weeks (or 56 days). As a reward for loyalty, Quetzalcoatl provides the ability for stakers to earn higher rewards and grow their wealth over the longer term.

It's important to note that the staking will only work on the Polygon RIA, so users will need to come with their tokens already bridged over to the Polygon network. Users will need either a MetaMask or KuCoin wallet to stake their RIA. Users can easily bridge their RIA from Ethereum to Polygon using the project's bridge;
https://bridge.calvaria.io/
Get Ready For Mass Adoption
The overall goal of Calvaria is to become a gateway to Web3 for non-crypto natives by attracting players from traditional Web2 gaming sources and bringing them over to the Web3 world. The game will come in two versions, a free-to-play version, and a play-to-earn.
The F2P will be on Google Play and Apple Store – without any blockchain functions included. The idea is that players will play the F2P version, which will serve as an education method for the Web3 experience. Eventually, Calvaria believes the Web2 players will switch to the P2E version after learning how much money they could have earned.
Overall, after its brilliant presale, Calvaria is ready to bring some outsiders into the Web3 space and help expand its ecosystem.
Visit Calvaria
Join Our Telegram channel to stay up to date on breaking news coverage