CUPERTINO, Calif.—As has long been tradition, Apple publicly announced the key features and other details of the next update to the iPhone's operating system at its WWDC conference. Apple's Craig Federighi said the new operating system would focus on "communication, sharing, intelligent input, and new experiences."
As a follow-up to iOS 16's customizable lock screens, iPhone users can now customize their own "contact poster" that appears on other phones when a call comes in. Posters will appear not just for calls placed via cellular or FaceTime but also with third-party VOIP services like Zoom or Skype.
Apple is also adding features for people who like to leave voicemails—live transcription can render text on your phone as the other person is speaking, so you can decide whether to pick up even if you can't hear or aren't listening to what the person on the other end is saying. And FaceTime callers will be able to leave video messages, too.
iPhone-to-iPhone upgrades
The Messages app gets a handful of minor updates, including (blessedly) improved search, audio message transcription, and new organization options for iMessage stickers. All of the iOS emoji will also be available to use as stickers. You can easily create stickers of people using the same AI features Apple uses to separate the subjects of iPhone photos from the photo's background.
AirDrop is picking up improvements, too. Transfers can continue over the Internet if the device you're sending to moves out of range. iPhones (and Apple Watches) held near each other can automatically share contact information between phones, as the "Bump" app did years ago.
Moving on to the "intelligent input" features, Apple is trying to make autocorrect in iOS less frustrating—the keyboard will more readily learn custom words as you type them, and there's sentence-level autocorrect now, too. Apple also said that a new voice recognition model for the dictation feature will help improve its accuracy. As coyly suggested by Apple SVP Craig Federighi, the iPhone should now get out of your way when you want to "just type a ducking word."
There's a new "Check-in" feature—at least for families and friends all using iPhones. You can initiate your walk or commute to a location, like a parked car, and your phone will automatically communicate your location, battery level, and whether you've kept making progress to your destination to anyone you've designated to monitor it. It's an advancement on constantly opening Find My and zooming in on a vague map dot, to be sure.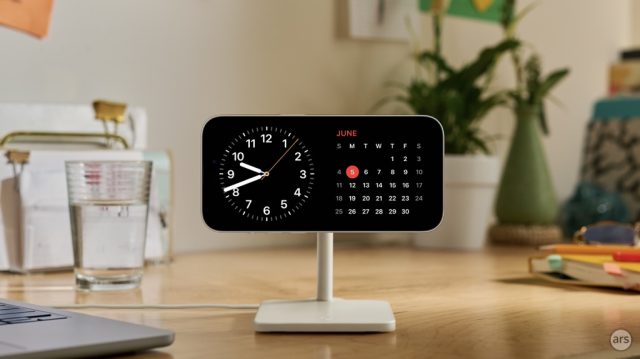 Journals and a "clock radio mode"
Journal, a journaling app coming "later this year," will create personalized suggestions "to inspire your writing." It will be able to use data from workouts, music you've listened to, podcasts, contacts, location data, and other information handed over to it by a new Suggestions API.
Another big new feature is a "StandBy" mode, which lets an iPhone act as a sort of smart display. When charging and placed horizontally, the iPhone's lock screen will display information like weather, calendar appointments, and notifications, behaving similarly to an Amazon Echo Show or a Google Nest Hub. Last year, Apple brought a (sort of) Android-style always-on display to the iPhone Pro models for the first time, but it mostly just showed the time of day.
Apple also announced iPadOS 17. The iPad's operating system is still largely identical to iOS, so most of the new iOS features will also make their way to Apple's tablets. But iPads will finally get a couple of missing iOS 16 features, including the customizable lock screens and the ability to put interactive widgets on the home screen. The Health app will also migrate from iPhone to iPad for the first time.
Apple TV and CarPlay upgrades (including finding the remote)
Apple announced a few features for its more peripheral systems that make your iPhone a bit easier to use. SharePlay, for example, will be available to iPhone owners in the same car, allowing them to play music without having to swap their connection.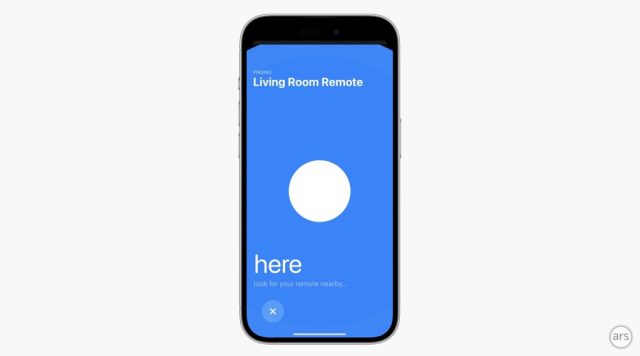 Apple TV and its tvOS got a redesign, but let's get right to the most important thing: you can now use your iPhone to locate your Siri remote. Apple did not clarify which model of Apple TV and matching remote, nor which iPhone models, will be able to find each other. Nor did it say whether this service will work through Apple's Find My service or whether you'll simply be able to ask Siri on your iPhone to find your remote. But there's an indication that it can show you direction and distance, and it's likely the end of a bunch of chunky remote sleeves that make room for an AirTag.
Apple TV owners will also be able to take FaceTime calls on their TV while using an Apple device as a camera. It's probably not a common use case, but it could spare couples the discomfort of having to cram themselves around a MacBook screen.
Apple's 2023 WWDC keynote is ongoing. We'll be filling in this post with more details, or you can follow along live here.