Apple Music Classical has made its long-awaited debut in the App Store – and for Apple Music subscribers, the app is an exciting new way to explore the world's biggest classical music catalog.
Right now, Apple Music Classical is exclusive to the iPhone, but the company says an Android app is "coming soon". If you're an Apple Music subscriber ($10.99 / £10.99 / AU$12.99 a month). you can download the app right now for free from the App Store (opens in new tab).
But should you download Apple Music Classical and how good use it? And why on earth has Apple made a separate app, rather than bundling all of this classical goodness into its existing Apple Music app?
We've answered all of these questions and more in this guide to Apple's unique app, which gives Apple Music a unique advantage in its battle with Spotify and the best music streaming services.
Apple Music Classical release date and price
Apple Music Classical is available to download now in any country where Apple Music is available. That includes the USA, UK and Australia, though countries including China, Japan and South Korea currently miss out.
You need an Apple Music subscription to listen to Apple Music Classical and there's currently no separate subscription available. Right now, that costs $10.99 / £10.99 / AU$12.99 a month.
Considering Apple Music has over 100 million songs and Apple Musical Classical adds another 5 million tracks to that, that's pretty good value – particularly if you have wide-ranging taste from stretches from classical to college rock.
Apple Music Classical: how to download it
There are a few boxes to tick before you can start streaming Apple Music Classical. First, you need an individual, student, or family subscription to Apple Music – unfortunately, the cheaper Apple Voice ($4.99 / £4.99 / AU$5.99) plan doesn't include the new classical streaming service.
You also may need to update your iPhone's software. While you don't need to be running the absolute latest version of iOS 16, you will need a phone with iOS 15.4 or higher. That means any iPhone from the iPhone 6S onwards, including the iPhone SE.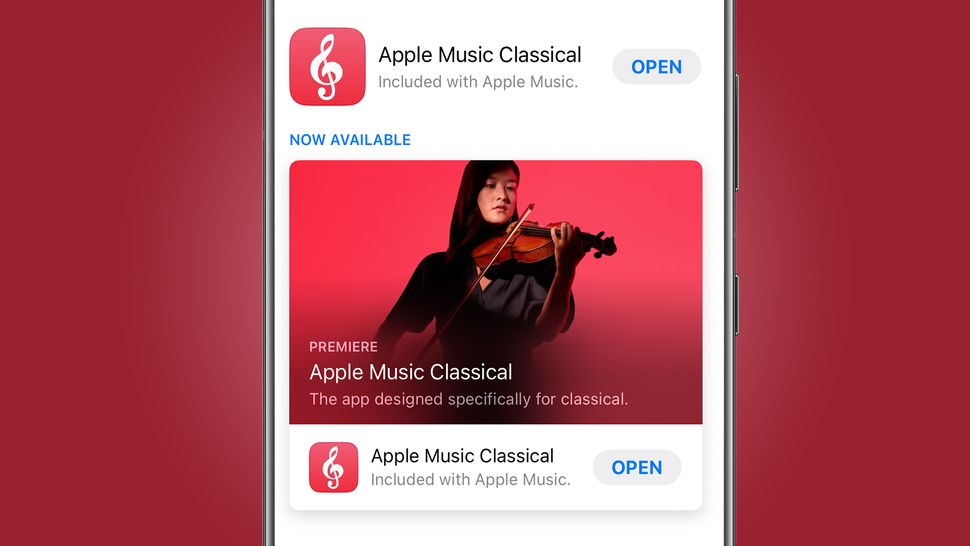 Got both an Apple Music subscription and a relatively recent iPhone? You can download Apple Music Classical from the App Store (opens in new tab) right now. Just sign in with the same ID you use for your Apple Music subscription and you're off.
Unfortunately, there is currently no iPad app or Mac app for Apple Music Classical, which is a shame. But Apple has said that an Android app "is coming soon". We'll update this page as soon as we know more about a date.
Apple Music Classical: what is it?
Apple Music Classical sounds like a straightforward concept – a spin-off from Apple Music where you can stream around five million orchestral tracks by all kinds of composers, from Bach to Mozart. But its surprising depth, which is built on Apple's purchase of the classical music app Primephonic in 2021, makes it suitable for all experience levels and shows why Apple decided to make it separate app.
Apple's calls the service "the world's largest classical music catalogue" but its real appeal is the power of its search function. Because classical pieces have hundreds of recordings by different orchestras and conductors, traditional streaming apps can be difficult to navigate.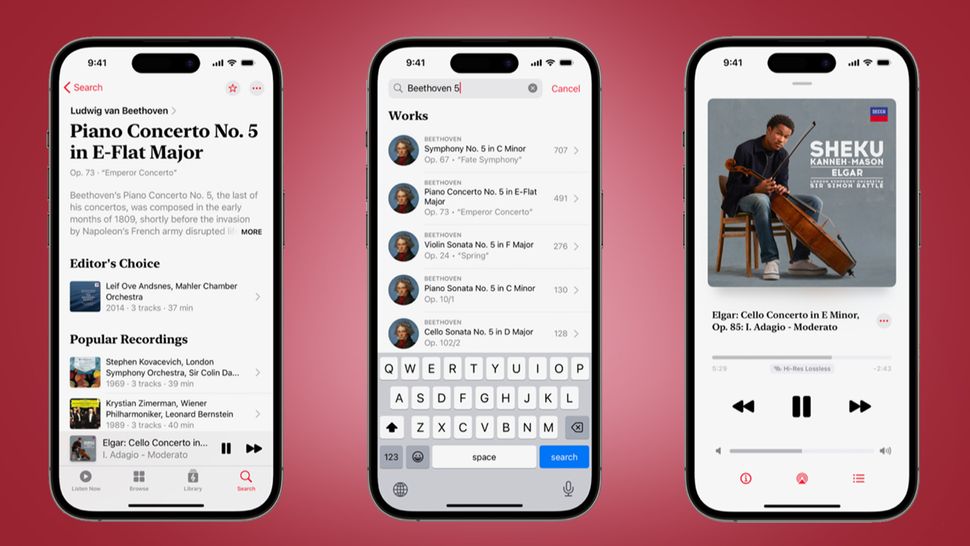 Apple Music Classical promises to be an improvement thanks to the nuance of its Browse section, which lets you search by composer, period, genre, conductor, orchestra, soloist, ensemble, choir, instrument or even the work's opus number or nickname. That makes it easier to surface, for example, that particular movement by Massenet.
The app is also a pretty beginner-friendly introduction to the slightly intimidating world of classical music. Apple's created over 700 playlists along with some handy guides, like The Story of Classical, which combine commentary with works and breakdowns of classical terminology. We'd love Apple to do more of this for all genres of music in its own Music app, but it's definitely a nice feature here.
With some exclusive artwork, including high-resolution portraits of composers from Bach to Vivaldi, Apple Music Classical clearly wants to be as much a digital home for classical music fans (or fledgling fans) as it is a place to stream music. But Apple fortunately hasn't forgotten about sound quality either.
Apple Music Classical: features and design
As you'd hope for an app that's attempting to recreate the sound of a live orchestra at home – even if that isn't really possible – Apple Music Classical does promise impressive sound quality for a streaming service.
The app features lossless audio quality up to 24 bit/192 kHz throughout its catalog, which is a boon considering there's still no sign of equivalents like Spotify HiFi (its lossless, CD-quality offering). The quality you ultimately get, though, will depend on whether or not you're listening with wired or wireless headphones.
Some of the Apple Music Classical catalog is also available in Spatial Audio with Dolby Atmos, which gets a bit closer to that 360-degree immersive live experience. You can find these pieces in its 'Now in Spatial Audio' section, which currently contains just over fifty works.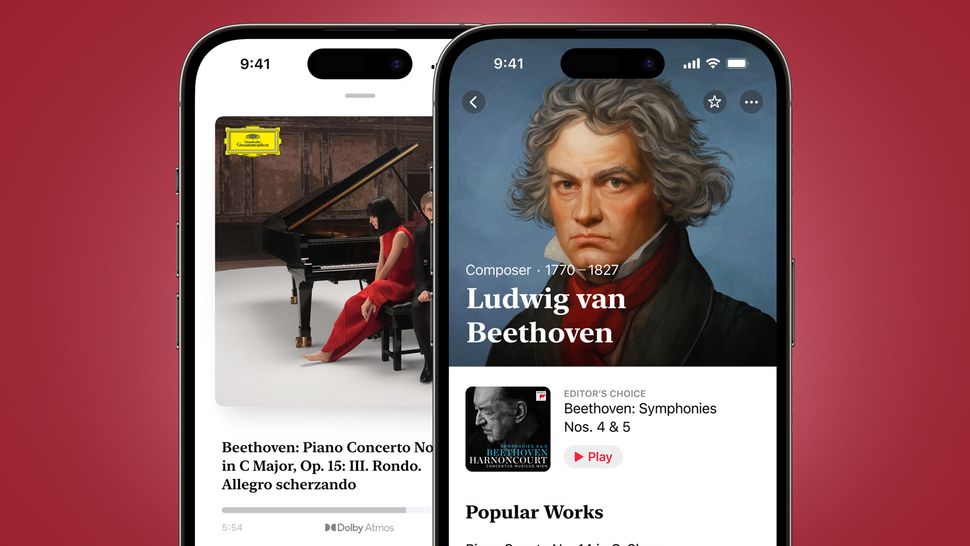 You'll again need headphones or speakers that can handle Spatial Audio to benefit from this. And it's also worth bearing in mind that on Apple's wireless Bluetooth headphones (like the AirPods Max) you'll still only be able to stream Apple Music Classical in lossy quality, as lossless audio isn't currently possible over Bluetooth on Apple headphones.
Got some wired headphones or listening on some speakers? You can turn on lossless audio quality by going into your iPhone Settings menu and finding the Music app. From there, go to Audio Quality and tap 'Lossless Audio' to turn it on. Bear in mind that this will use a lot more data than usual, which means you may also want to turn off Cellular Data for the Music app (which also controls the settings for Apple Music Classical).
The overall design of Apple Music Classical is, as you'd expect, clean and simple, much like the Apple Music app. There's a refreshing lack of clutter compared to other music streaming apps like Spotify and the Browse section is particularly powerful for classical music.
You can add albums or playlists to your Library section by tapping the '+' symbol in the top right of either. But strangely, you can't download these tracks in Apple Music Classical for offline listening – instead, you need to go to the standard Apple Music app, find them there and then download them to your device.
Apple Music Classical: the downsides
Apple Music Classical certainly isn't perfect. For a start, there currently aren't any dedicated apps for iPad, Mac, Apple TV or CarPlay, which is strange. There also isn't an Android app yet, even though one is "coming soon".
It's possible that this will change in the future, as Apple has stated that the current version of Apple Music Classical is "just the beginning". But that does make it slightly more limited than it could have been, even if the likes of AirPlay are a workaround for Apple TV owners.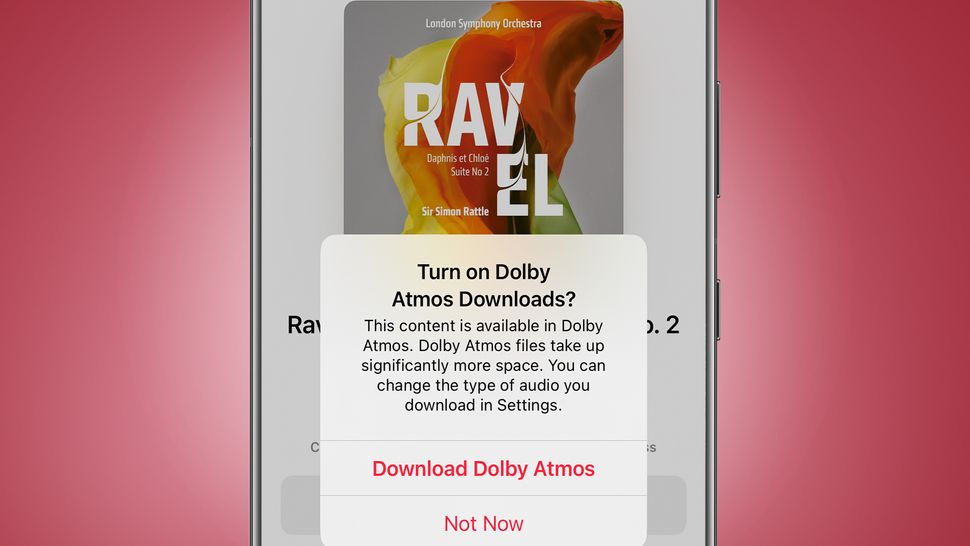 There are a few other limitations, too. There's no 'shuffle' option available for those who want to have more of a radio-style experience like the one offered by the standard Apple Music app. And in general, the design is set up for those who already know what piece of classical music they're looking for.
It also isn't possible to download tracks in Apple Music Classical for offline listening. But while Apple did previously confirm to us that there would be no offline listening option in the app, there is an unexpected workaround – you can find tracks saved to your Apple Music Classical library in the Apple Music app and download them from there. Not ideal, but better than nothing.
Apple Music Classical: early verdict
We're pretty impressed with Apple Music Classical so far. The streaming quality is good (particularly when you use wired headphones) and the catalog has depth and variety. The key benefit, though, is its powerful search function, which makes it far easier to browse classical music than, say, on Spotify.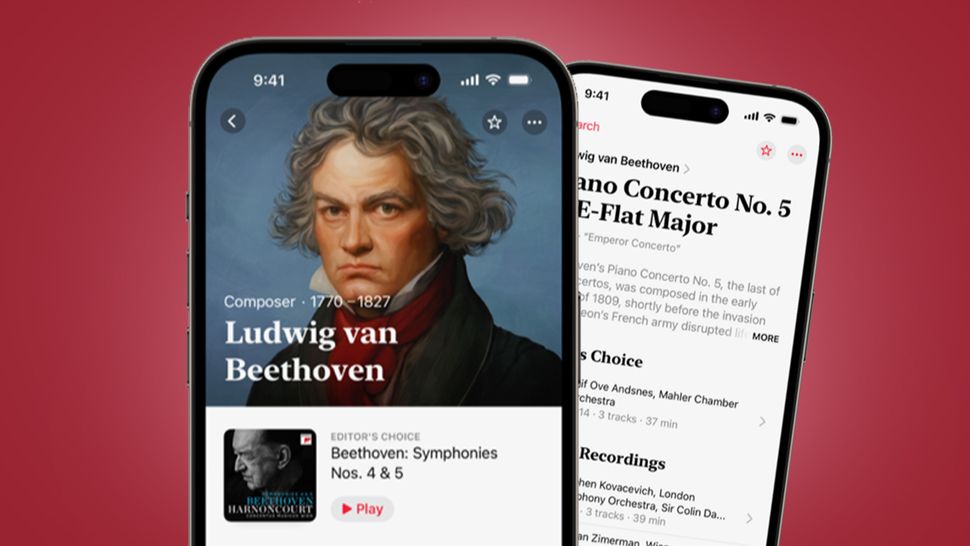 It's a shame there aren't more apps available, particularly for iPad and Mac. We hope that changes soon,, as it will for Android fans. And the offline listening setup, which you have to do via the Apple Music app, is a bit convoluted. 
But for a first-gen offering, Apple Music Classical is a polished new experience for fans of the genre – and a unique differentiator for Apple Music when compared to the likes of Tidal, Amazon Music, and Spotify.