Join Our Telegram channel to stay up to date on breaking news coverage
Cardano's ADA token has once again broken above the $0.326 mark. With the digital asset following the market on the second day of gains, what is the next phase for the token on the ride?
ADA Price Action
At press time, the ADA token trades at $0.327. The asset's price is up by 0.73% in the past 24 hours. The broader market is also up by 0.81% in the same period.
With ADA being one of the most valuable coins in the market, its ability to follow the market in gains isn't so surprising.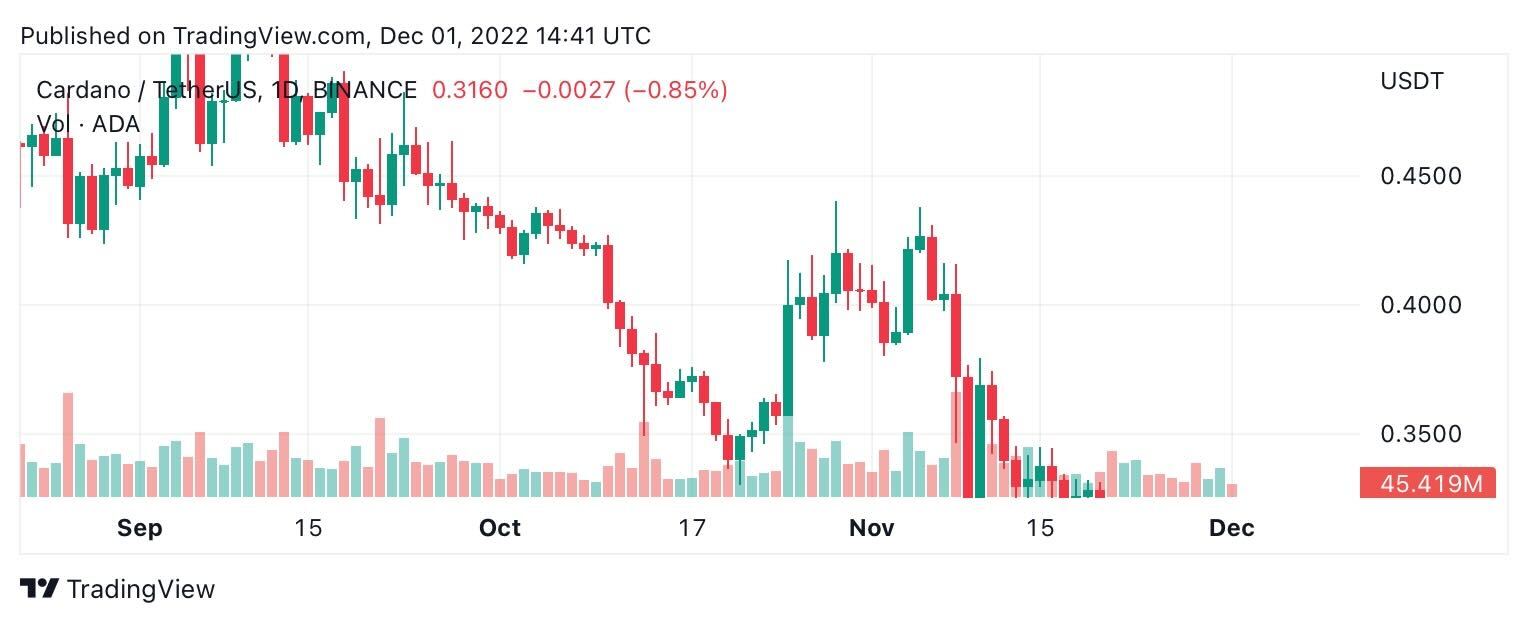 According to its technical analysis, ADA trades above all its major moving average (MA) indicators, from the 10-day MA to the 200-day MA. Its moving average convergence divergence (MACD) and relative strength index (RSI) of 58.20 indicates a buy signal for the digital asset.
Cardano's Hint at Twitter Partnership
While ADA's price has been on a two-day gaining streak, the crypto asset has little in terms of fundamentals. However, its developers recently hinted at a possible partnership with Twitter that got the market excited.
Recently, Cardano developer Charles Hoskinson attended an event where he explained that he believed in blockchain's role in optimizing Twitter.
Following the buyout by billionaire Elon Musk, the social media platform has undergone massive restructuring. Although the new CEO and crypto enthusiast unveiled his plans for "Twitter 2.0" last week, there was no mention of blockchain technology or cryptocurrency.
In his interview, Hoskinson explained that he believes blockchain could help improve several aspects of Twitter's operation. The developer added that Dogecoin could be a good option.
However, he also admitted that the asset's blockchain is Ill-equipped to scale and serve Twitter's users, which number over 250 million.
Hoskinson welcomed the idea of Cardano collaborating with Dogecoin to bolster the latter's scalability, although he also admitted that there isn't much in the works yet.
LBLOCK V2 is A Great Profitability Option
At the moment, investors in the crypto market continue to search for gains as asset prices brace up for possible consolidation. However, one asset that should be on your radar is LBLOCK V2.
LBLOCK V2 is the native token for Lucky Block. The competition and games platform has made a name for itself and carved a niche in the crypto market, and it recently announced a massive update that could help to spur even more growth.
Lucky Block's developers launched a live casino and sportsbook feature earlier this week. The feature marks Lucky Block's foray into the online gambling space, one which was estimated to be worth $58 billion globally in 2021 and is expected to grow more this year.
With the Lucky Block live casino and sports book, fans will be treated to various games and casino options. These include over 16 live sports betting options organized by over 100 developers. Lucky Block offers access to them all, from football and boxing to basketball and hockey.
Other benefits of the platform include a user-friendly interface, instant transactions, no limits on betting and wagers, and 24/7 customer support. This platform is sure to bolster the appeal of the Lucky Block ecosystem and, by extension, the price of LBLOCK V2. 
Related News
Dash 2 Trade – High Potential Presale
Active Presale Live Now – dash2trade.com
Native Token of Crypto Signals Ecosystem
KYC Verified & Audited
Join Our Telegram channel to stay up to date on breaking news coverage