Over the past decade, PETA Latino has championed animal rights, inspired change, and raised awareness of animal-related issues throughout the Latino community. As we approach PETA Latino's 10-year anniversary, now is the perfect time to express our gratitude and look back at the extraordinary work and courageous acts of the celebrities who have played pivotal roles in PETA Latino's history.
Kate del Castillo
As one of PETA's honorary board members, Kate del Castillo has fearlessly lent her voice and passion to many campaigns aimed at transforming the lives of animals. She has never backed down in her advocacy, from powerful bullfighting ads targeting both Mexico and Spain to vocal opposition against SeaWorld and her iconic "I'd Rather Go Naked Than Wear Fur" campaign, which showcased her passion for raising awareness of the fur industry's horrors.
Marco Antonio Regil
A true pioneer in celebrity advocacy, Marco Antonio Regil has been an integral part of PETA Latino since its inception. With his vision and passion, he helped shape the program's early days as its first celebrity supporter and a PETA honorary board member. His impact reaches far and wide as he uses his platform to encourage millions of people to go vegan. His involvement in PETA Latino's spay-a-thon events and his dedication to spreading the message of compassion have earned him PETA's 2015 Humanitarian Award and the gratitude of advocates for animals everywhere.
Alicia Machado
This Venezuelan model, actor, and activist doesn't hold back when it comes to advocating for animals. She bared it all in a sizzling anti-fur campaign, declaring, "Proud to Be Me and Fur-Free," then showed her angelic side to encourage people to "be an angel for animals" by having their cats and dogs spayed or neutered. Alicia even took to the streets of Miami to call on the Miami Seaquarium to release Lolita, the orca who suffered in the smallest orca tank on Earth for more than 50 years, to a sea sanctuary, which the park announced it would do months before her death.
Carla Morrison
Latin Grammy Award–winning artist Carla Morrison's beautiful melodies resonate not only in the music world but also in the world of animal rights advocacy. Carla's vocal opposition to the captivity of orcas at SeaWorld and her poignant message about fireworks' effects on companion animals have shone a spotlight on crucial issues. Her message to never buy dogs and to adopt instead has made her a cherished ally in PETA Latino's mission.
Jesse & Joy
This duo's collaborations with PETA Latino have been truly awesome. Through impactful ads and videos, they've championed animal adoption, anti-fur campaigns, and natural disaster readiness for companion animals. Their work highlights their compassion and influence, making a profound contribution to animal rights advocacy and inspiring positive change.
Edward James Olmos
Edward James Olmos has never shied away from promoting kindness toward animals and fostering a greater understanding of their needs and emotions, from his heartfelt "Family Is Family" ad featuring his beloved dog, Moe, to his anti-fireworks public service announcement and advocating for a more compassionate approach to celebrations. Additionally, he has lent his voice to the coyote in our Council of Animals display in Washington, D.C., to spread the message that if our fellow animals could be understood by humans, we'd hear them begging us to stop harming, exploiting, and slaughtering them.
Patricia De León
As one of the first celebrities to work with PETA Latino, Patricia De León set the stage for all of our amazing ads. She has been the star of ads against bullfighting and has appeared in others that spread the message of kindness to animals. A mother herself, she narrated a heartbreaking video about horrific experiments done on baby monkeys who are torn away from their mothers.
Paulina Rubio
"The Queen of Latin Pop," Paulina Rubio, doesn't just use her beautiful voice for singing—she uses it to help animals. Her ads have promoted animal adoption, warned against leaving dogs in hot cars, and advocated for the release of Lolita from the Miami Seaquarium. She continues to play a vital role in inspiring positive change for animals in the Latino community.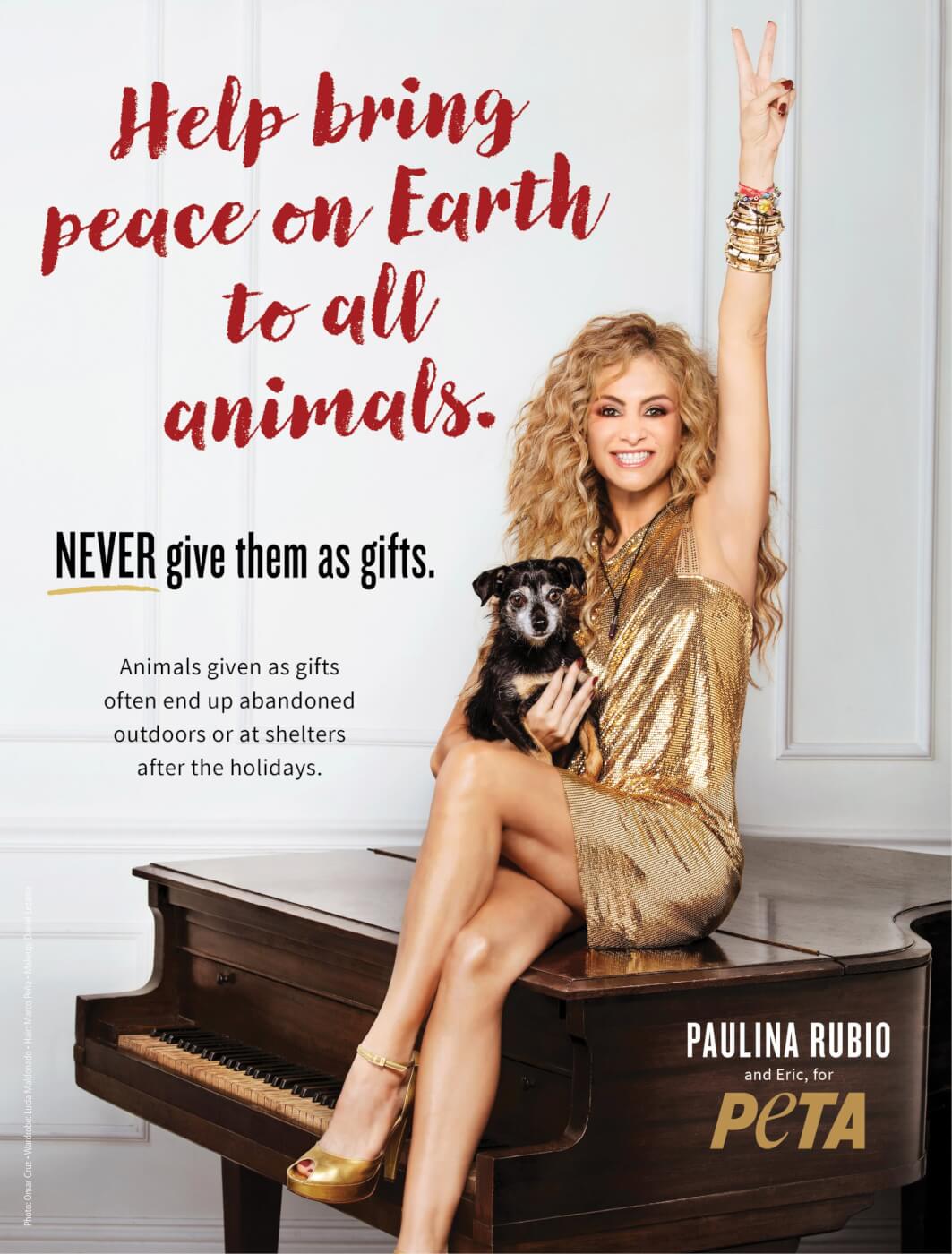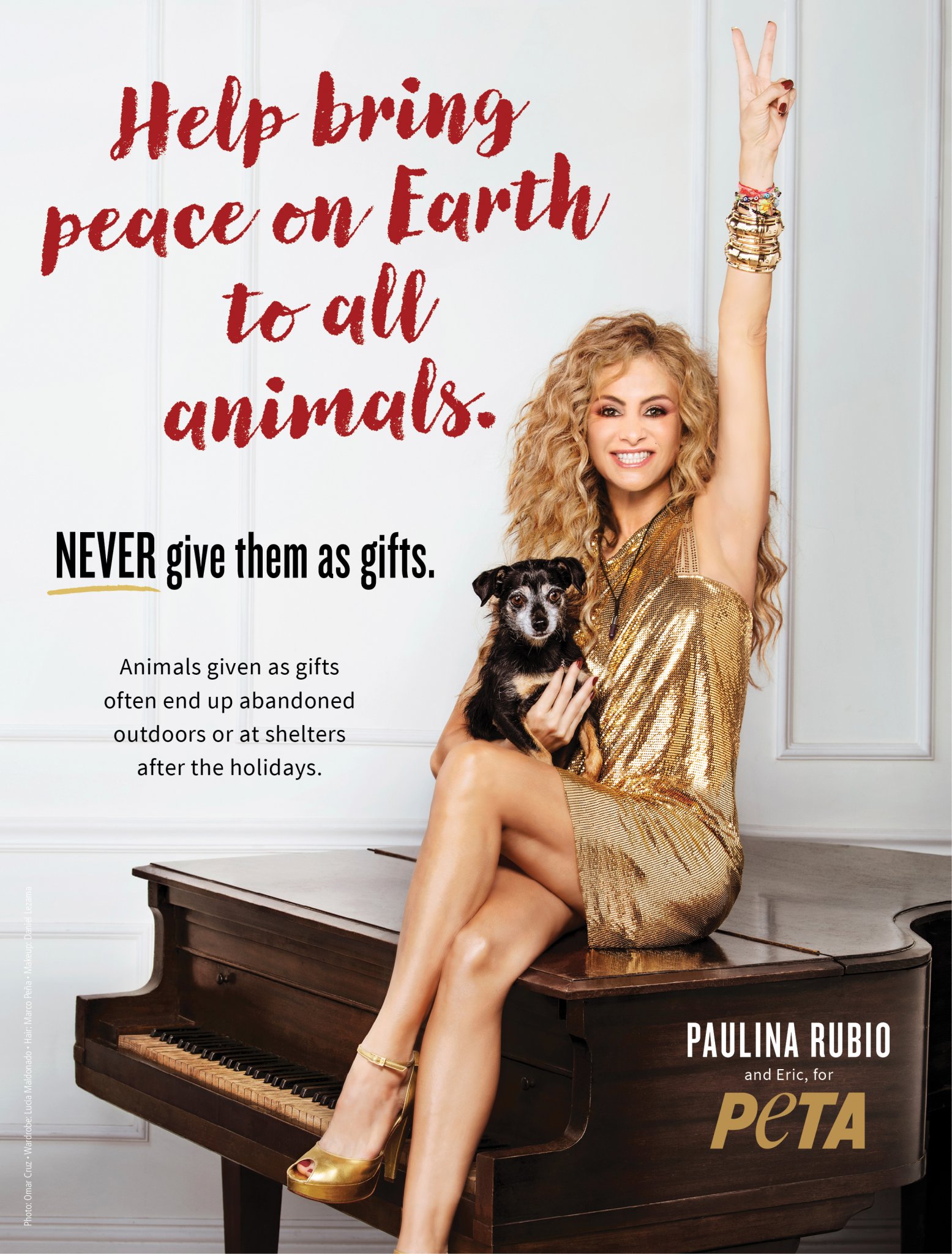 George Lopez
Beloved sitcom star George Lopez's antics make us chuckle, but his message is crystal clear: Let's give animals the love and care they deserve by adopting—never buying—them and ensuring that they're spayed or neutered. His flair for fun is matched only by his commitment to PETA Latino's mission, making him a rock star for animals everywhere.
Dulce María
Dulce María's work for animals in entertainment has been vital to our campaigns, from her powerful anti-SeaWorld ad that spotlighted the plight of captive marine animals to her advocacy to end circuses and bullfighting. She has consistently used her platform to raise awareness and effect change. Her work has sent the clear message that animals deserve compassion, respect, and a life free from exploitation for human entertainment.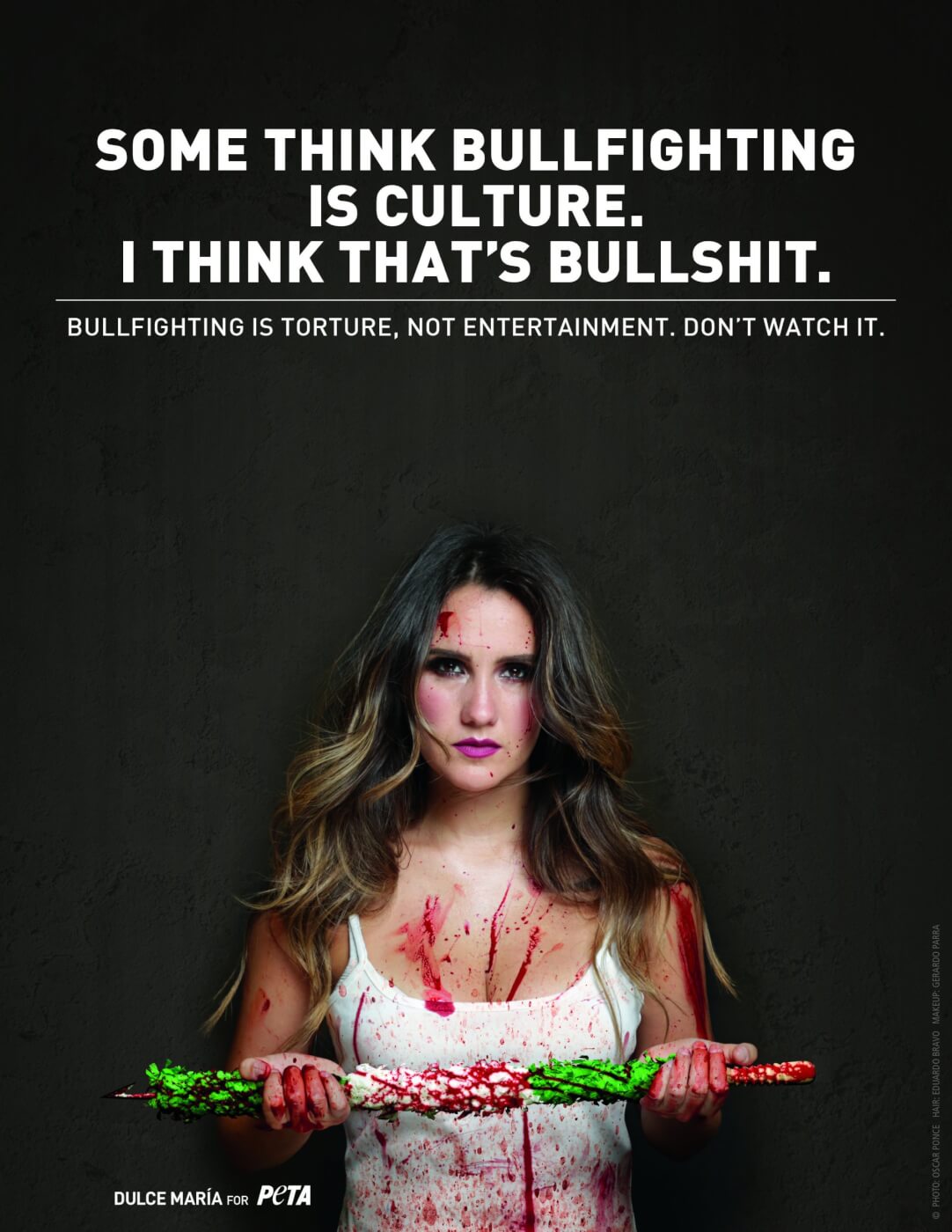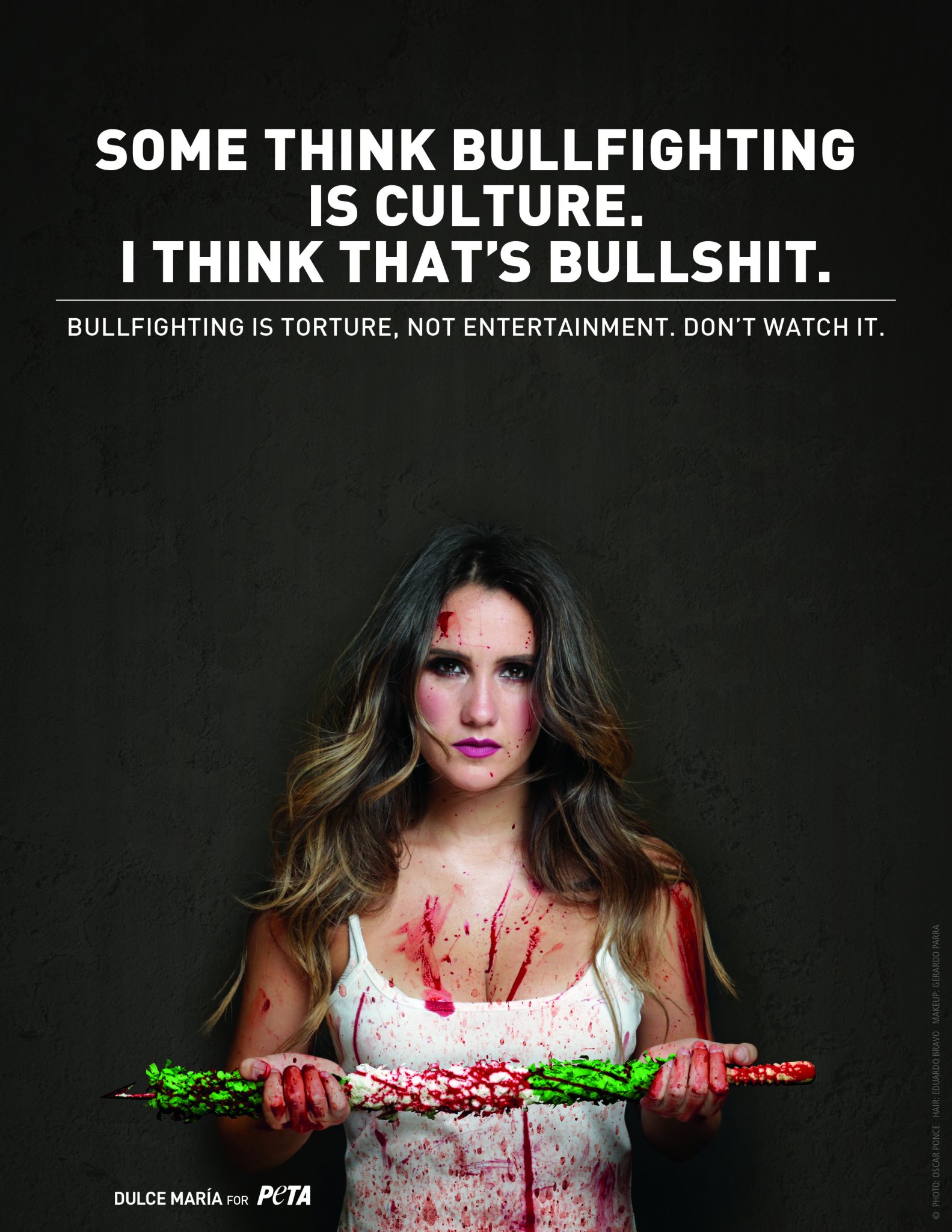 Thank You for 10 Wonderful Years of PETA Latino!
As we look back on a decade of remarkable achievements, we must take time to acknowledge the more than 75 celebrities who have lent their voices to PETA Latino's cause.
As we celebrate this milestone, we invite you to become a part of PETA Latino's activist network. By joining forces, we can continue to drive change, amplify our message, and create a world in which animals are treated with the respect and compassion they deserve.