Widgets are one of my favorite iPhone tools, and widgets can turn your boring grid of app icons into a pleasant, useful home screen. Some widgets give you quick info at a glance, but I like widgets that can help me out and remind me to do the stuff that I'll forget to do. When I'm out and about, these are the widgets I use to make sure I'm on top of everything, whether it's remembering an important event or just a fun show I want to watch later. 
What is a widget, anyway? A widget is an app, or a part of an app, that sits on your home screen and does its work whether you open it or not. 
You don't need to open the Weather app to check the weather, you can just add the Weather widget to your home screen. Likewise, you can find widgets that tell you the battery life of your phone and accessories, widgets that show you photos from your gallery, and widgets that track your steps and fitness, just like the best Apple Watch.
Besides widgets that give you information at a glance, I also like widgets that are a quick shortcut to an app, especially making a list. I don't need to open my Notes or my To Do list app, I can just tap on a widget instead and it will automatically create a new entry.
Finally, I need reminders, and not just a simple alarm or a countdown timer. I like to know how much time I have left in broad terms. How much time until my next vacation, for instance! I also like reminders for some of the habits I'm trying to build. Instead of getting a notification or opening up an app, I can just tap on a widget to keep track of what I've accomplished and build upon my streak.
Widgets need to look nice, otherwise I won't want to use them. This is my iPhone, after all, so my widgets should match my taste and aesthetic, without being too loud or getting in the way. I've chosen a selection of the six most useful widgets that I use to help me keep on track, and it doesn't hurt that they mostly look pretty cute getting the job done, too.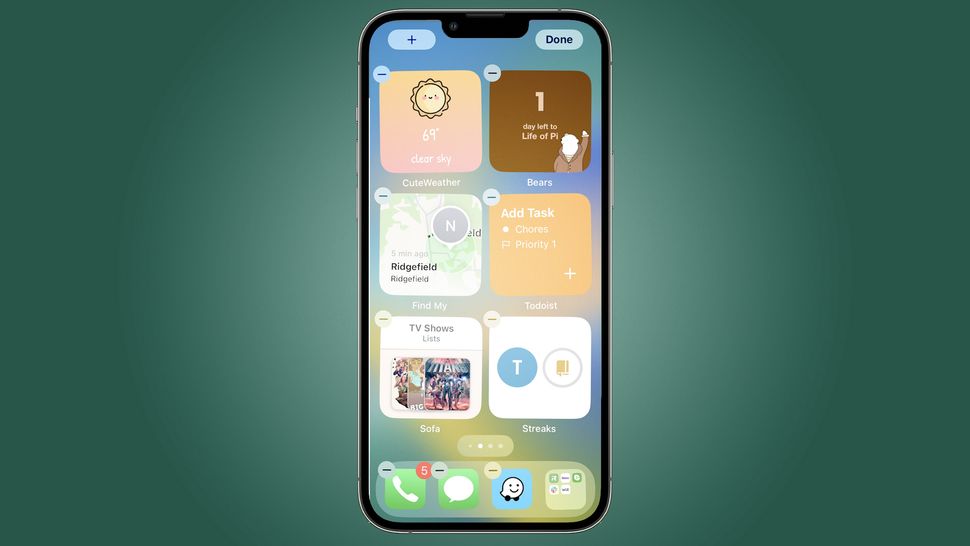 Widgets come bundled with the apps they accompany, so when you download an app, you get its widget as well. For most apps, the widget won't appear as an option until you've opened the app at least once and used it past the welcome screen. Once you've done that, you can search for your widget in Apple's list. 
To create a widget, hold your finger on any empty part of your home screen. The icons will start to shake and shimmy and at the top right of the screen a plus "+" sign will appear. Tap on that sign to see the widget list.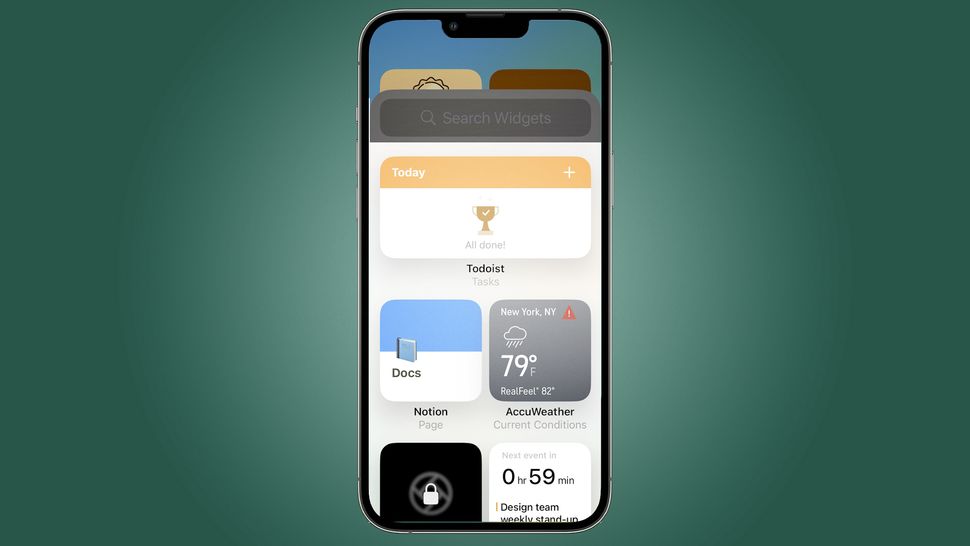 There are three sizes of widgets on iOS 16 and you cannot resize them. You can have the smaller square, a longer bar, or a very large rectangle. I chose the small square because six widgets fits perfectly on one home screen, giving me one useful page with everything I need.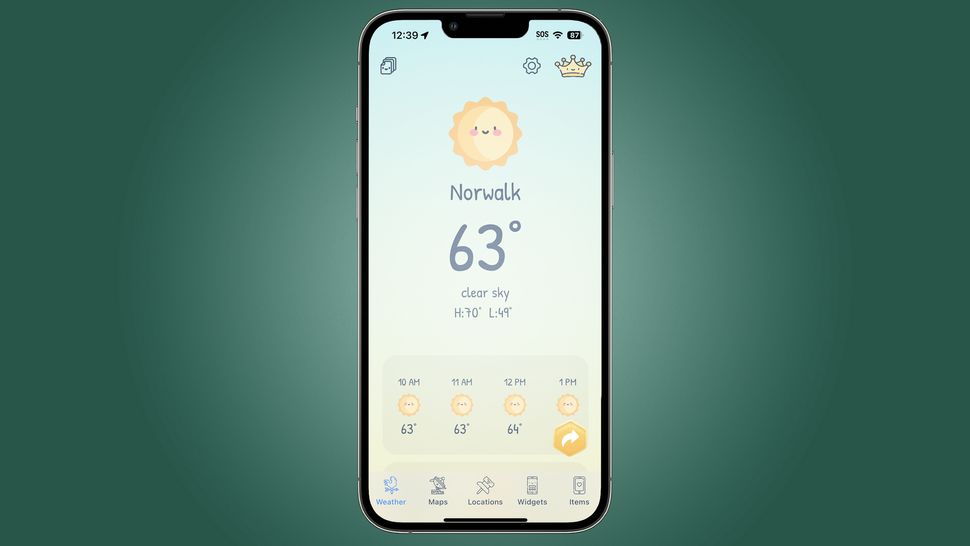 Shuffle the color of the widget
Change your location or keep it static
Be very careful about subscription prices
Even though I had a weather widget on my iPhone 14 Pro, I was constantly yelling out to my smart speakers, asking for the temperature. I'd almost forgotten that the forecast, highs and lows were sitting on my screen. That's because they look boring and blend in. I'd forgotten my weather app exists. 
That's why I downloaded Cute Weather. It looks cute, in the Japanese "kawaii" style, with a modern color scheme and a playful look. I can set the widget to shuffle through colors so that I don't get bored. It keeps the weather simple, so I know what to wear and whether to bring an umbrella. If I want more than that, I can click through to the app, which has a similarly sweet design and nicely customizable layout.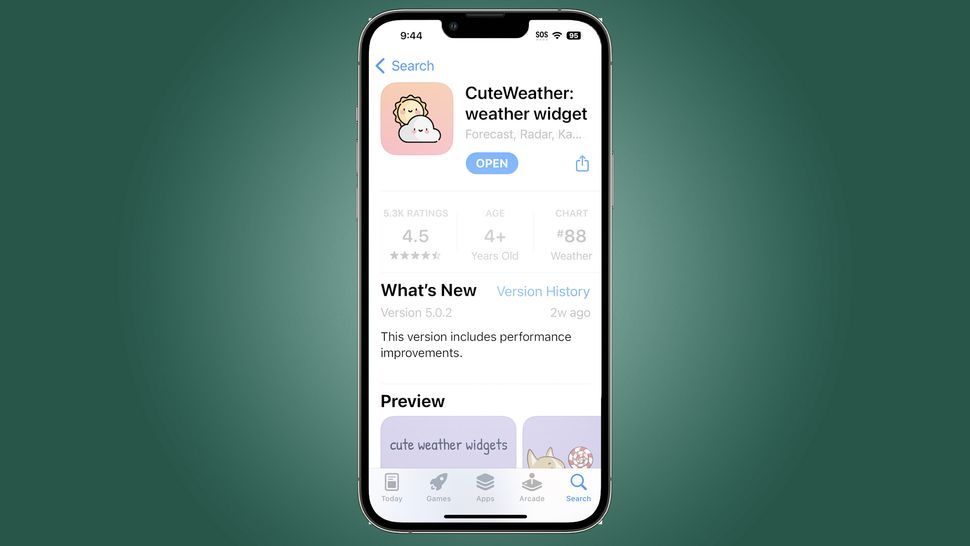 You can subscribe to Cute Weather, but be very wary of its predatory trial pricing. After the short free period, it costs $3.99 per week, which adds up to a huge amount to spend on a weather app. The $19.99/year price is more reasonable, if you feel the need to subscribe.
Download CuteWeather
Bears Countdown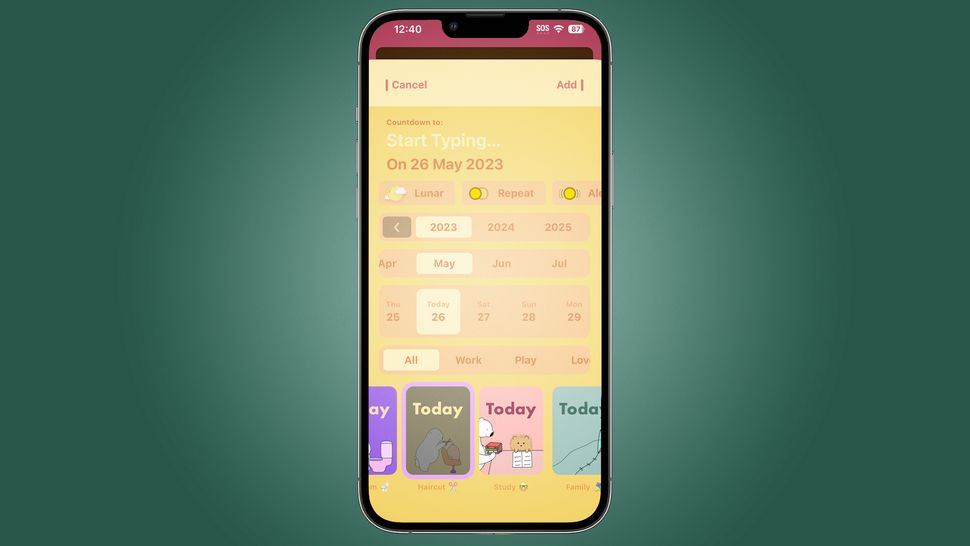 Easy countdown timer widget with cute bears
Lots of bears to choose from, including Gaming, Baby, and Self-Help
Mac OS app to synchronize as well
Sometimes I need to know when I have 10 minutes left, but often I just want to know how many days until something happens. How many days do I have until the kiddo leaves for summer camp? How many days until the Broadway show? For a friendly countdown, I like Bears, which you can get for your iPhone and your Mac. 
Bears is a simple countdown timer to the day. You cannot set a specific hour, just the day. There are lots of bears to choose from to illustrate your timer, including bears playing video games if you're counting down to a game launch, or bears engaging in self-kindness, if you're counting down to your spa day.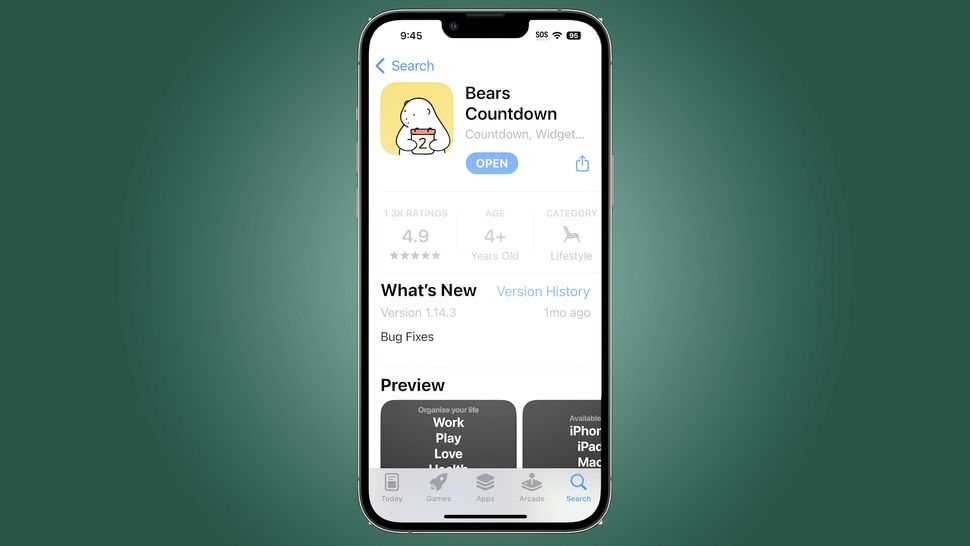 You can make the widget countdown to one event, or if you're looking forward to a few things, you can cycle through events. There are silly little stories and articles attached to the app, but the widget itself is enough to enjoy. I especially liked being able to set up events on my Mac Mini and have them appear on my iPhone, a rarity these days. 
Download Bears Countdown for Mac
Download Bears Countdown for iPhone
Find My (by Apple)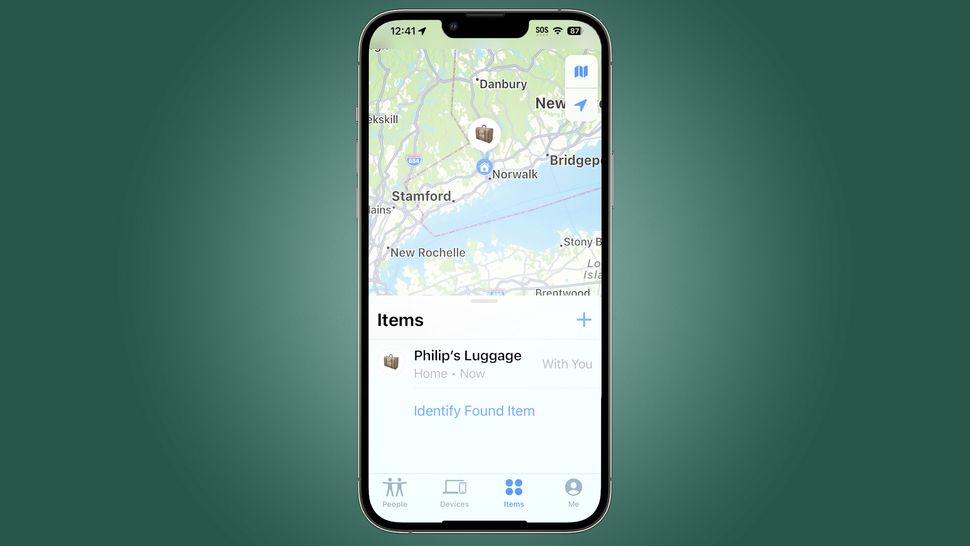 Apple app tracks your iCloud devices
Great for keeping track of your kids and stuff
Track AirTags as well as mobile devices
There are plenty of Apple-made widgets that are worth checking out, but I keep the Find My widget on my home screen at all times, and sometimes more than one. The Find My widget can track any devices attached to your iCloud account, including your family account. I keep my kid's iPhone tracked on a home screen widget, just to make sure nothing strange is going on. 
There are separate widget options depending on whether you are tracking a person or an item. You can also track AirTags, so if you have luggage or a vehicle that you need to keep an eye on, the Find My widget can help with that as well. If you have multiple items you need to track, try stacking the widgets on top of each other so you can flip through them quickly. 
Todoist: To-Do List & Planner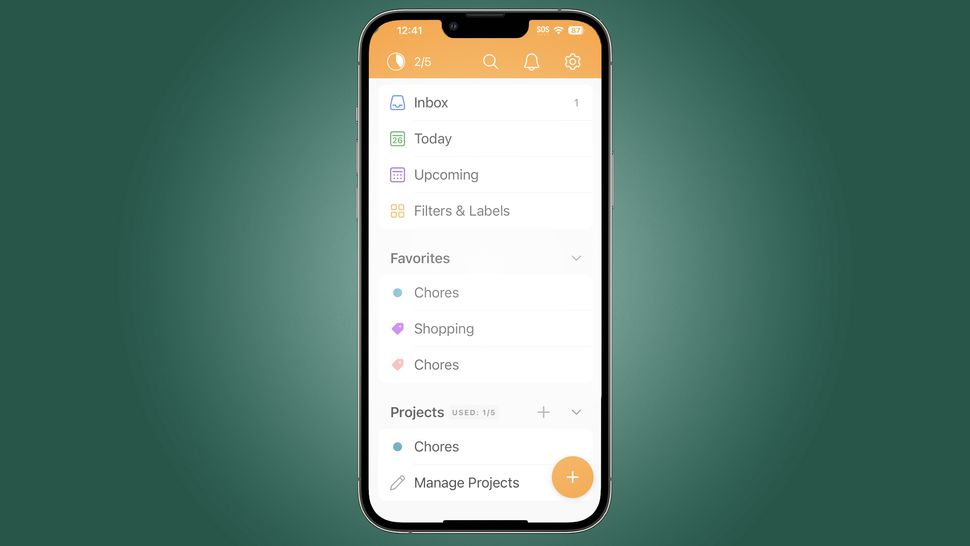 Simple To-Do app that can grow to be more robust
Create a widget shortcut pre-tagged
Organize everything later, or not
There are tons of To-Do list apps available, and I've tried many of them – but I keep coming back to Todoist. That could honestly be because it has great name recognition and it's been around forever, so I have a history with the app and it hasn't let me down. 
Todoist can be as simple or complex as you'd like. I use a widget to create new items for my To Do list and send them to my Inbox, then I organize them later if I feel the need. If you want to apply a specific label, the widget can tag your posts automatically as you create them.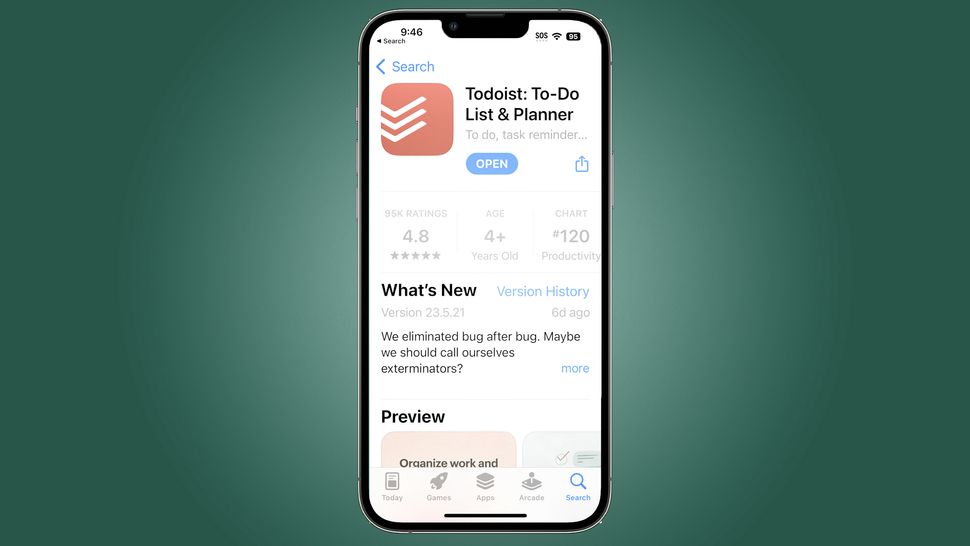 You can also use Todoist to set goals and record streaks, and you can set up commands with Siri that will create precisely the entries you need. I mostly use it as a home screen widget, and since it synchronizes nicely with iCloud, I've used it on many different iPhones over the years. 
Download Todoist
Sofa: Downtime Organizer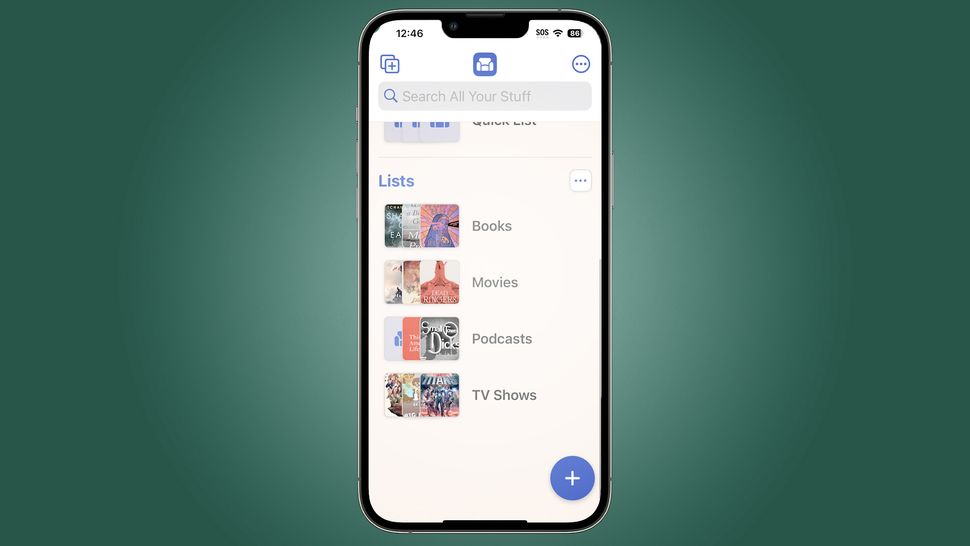 For shows I want to watch but forget about later
Track shows, books, movies, podcasts
App grabs a title card to make a cool looking widget
It never fails – when I'm out and about I see a poster for a show I need to see. Later, when I'm home, I can't remember anything good I want to watch. Along comes Sofa, which is a list-making app specifically designed to keep track of the things you mean to watch, listen to, or read. 
What makes Sofa great is that it finds a title card for whatever content you're trying to remember. You don't just get a list of stuff, you get pictures of book covers and board games, music albums and podcast avatars. Whatever you like, Sofa gives you a more visual approach that also makes it much easier to remember what you're seeing.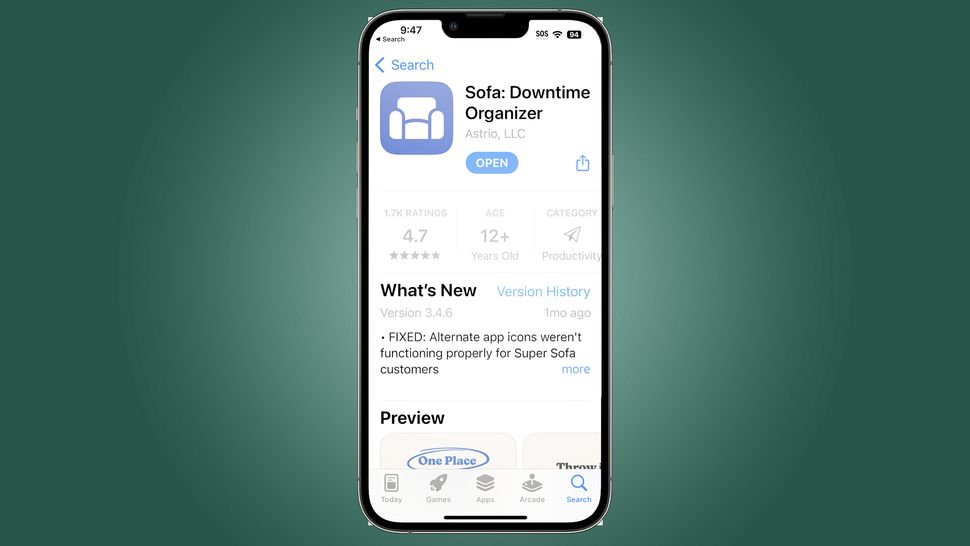 I wish more list-making apps were like this, but I'm happy to have Sofa to remind me of everything I need to watch across the vast landscape of streaming services. You can fine tune the look and behavior of the device, and there's a premium tier if you really love your leisurely lists, but I never found the need to subscribe to make Sofa incredibly useful. 
Download Sofa
Streaks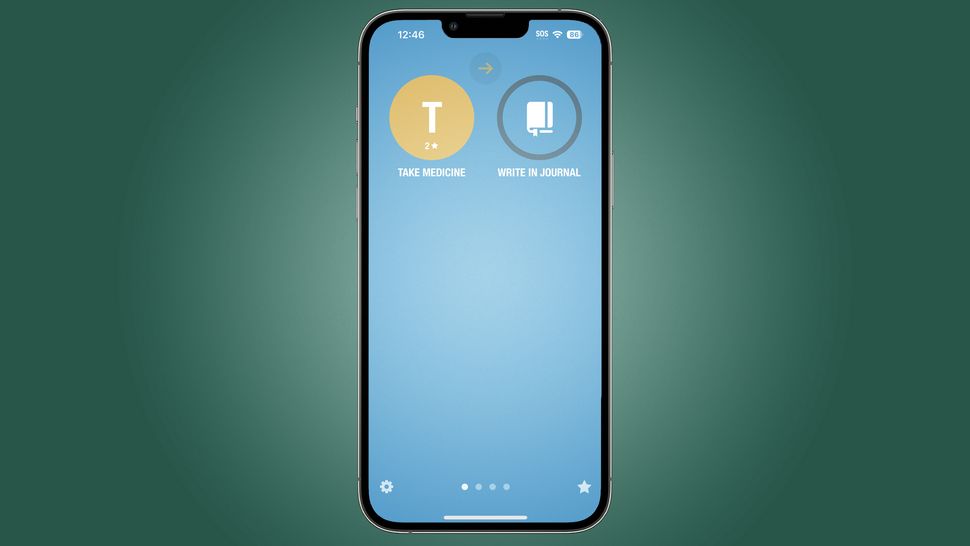 Create one or multiple streaks to make a habit
Great to remind to take meds, write in journal, drink water
Add notifications for streaks or don't, your call
It's one thing to seek self-improvement, but if you really want to get better, you need to change your habits. That begins with tracking your habits and making a streak. To do this, I like Streaks, the very simple tracking app. I keep a few habits listed on the Streaks widget and it reminds me whether I've done them today. 
This is especially useful if you're someone who needs to take a daily medication and have trouble remembering if that's done. I'm also using Streaks to remind myself to start every day by drinking water, and I'm building a bullet journal habit.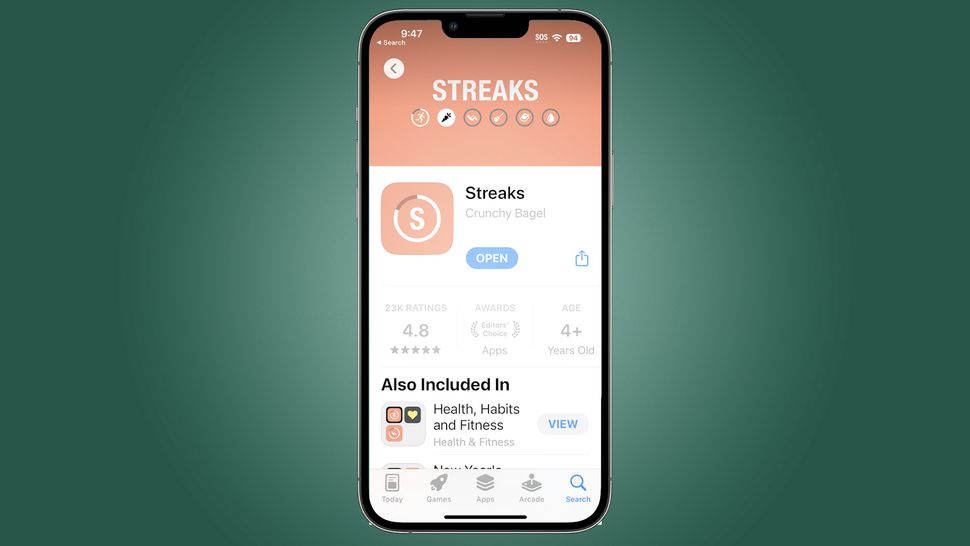 I like Streaks because it doesn't notify me needlessly, it just reminds me that there are 3-4 things I want to do, and keeps track of whether I've done them. For simple habit-building, it's an effective start. It helps that there are cool color options and stylish graphics that make it a pleasure to use. 
Download Streaks