Embarking on a journey to discover India on foot has meant that every day is one full of learning for 26-year-old Yati Gaur, who lives in Noida, Uttar Pradesh. 
With his rescue Indie pup Buttercup, Yati aims to cover every nook and corner of the country. His goal is simple, he says — he only wants to know his country and its people.
"I was not always the travel enthusiast that I am today. I like to explore new things and am very interested in art. I wanted to study and make films but as it seems, life had different plans for me," he says. 
"India is so diverse. It is a country where the landscape and the language change every 100 km, while a new religion is found every 1,000 km," he adds. "I wanted to do justice to that." 
It was in September 2020, after the first wave of the COVID-19 pandemic concluded, that he started his journey of exploring India on foot. Though he started out on his own, it wasn't long before he found Buttercup, who is now his steadfast companion and friend. 
Yati has, since then, walked more than 5,000 km with Buttercup. Speaking to The Better India from Andhra Pradesh as part of his Chardham yatra, which is his sixth expedition, he takes us through his ambitious journey, its ups and downs and what it is like for a man to travel through India.
Meeting his travel buddy
In 2021, Yati decided to take his second walking tour and explore Rajasthan. "I started my expedition of nearly 880 km from Jaipur and covered Bhilwara, Mount Abu, Jaisalmer, Jodhpur and Barmer," he says. 
On this journey, he found Buttercup in Bhojiawas village in Jaipur district. "She was just a puppy and her mother wasn't around. I decided to adopt her and carried her in my arms for 60 km till I found a tailor who could make a carry bag for me, as she was too small to walk so much," he remembers fondly. 
Highlighting how animals have tons of unspoken empathy, he shared an incident that happened with the duo much later in Uttar Pradesh. 
"I was exhausted from walking and decided to rest at a dhaba (roadside hotel). It was an area in the rural parts of the state with not a lot of civilisation around. I was so self-involved that I did not see an injured cow by the road. However, Buttercup saw the cow and kept pulling my feet till I went and looked at her." 
"I called the animal care helpline and the police to rescue the cow. I was relieved but also realised how selfless animals can be. Buttercup was tired as well, but she forgot her problems and wanted to help another life in distress," he adds. 
Choosing the road less travelled 
After completing his bachelor's degree in cinematography from Noida, Yati wanted to do a masters, but instead chose to work, earn his pocket money, and get some practical experience before joining a course. He got a job in 2017 at Hostellers, a backpackers hostel chain, in his city itself. 
This decision, he says, changed his life for good. 
"It was the biggest turning point in my life. Watching other travellers made me understand how travelling could be fun. I used to be a fool dreaming about making movies about other countries while our India was exploding with culture. I was convinced that I wanted to spend as much time as I could travelling," he says. 
"After the pandemic, I expressed to my father that I wanted to travel the country. He told me that if travelling is what makes me happy, I should leave my job and do that," he says. 
"This was enough motivation for me to go ahead with this idea. My father also offered to support me financially once I would exhaust my savings. However, when I told my family that I planned to travel on foot, their reaction was exactly what I expected," Yati says. 
"I was planning on going to Kedarnath and my mother thought that I was going to become a sanyasi (hermit)," he recalls laughing. 
He shares that a harder concept for most people to understand was the way in which he chose to travel. "The question my friends and family posed at the time was, 'why do this on foot?' The answer was simple. By walking to different places, I get a chance to have a closer look at my surroundings and truly enjoy them. When we travel by buses and cars, we only reach the destination and forget about the road leading up to it," Yati explains.  
All the stops on his way
Yati started his first-ever walking expedition from Rishikesh to Kedarnath, covering over 216 km on foot, in September 2020. 
"When I came back home, I was greeted with the warmest reception. My mother was certainly happy that I did not become a sanyasi and my father was proud of my achievements," he says.
The third expedition that Yati went on covered Himachal Pradesh but that trip was cut short as he sustained an injury along the way.
Besides these locations, Yati also explored northeast India, mainly Sikkim, as his fourth expedition. Buttercup could not accompany him then as she was still a puppy and needed training. 
"When I saw that Buttercup was old enough to accompany me for my fifth expedition, I decided to train her. We started with small walks in our nearby local areas and then progressed to hiking in Uttarakhand. Once I could see that she was ready, we started travelling together," he says. 
Calling Buttercup the best travel buddy he could have asked for, he says, "She is smart and resilient. Whenever I am about to give up, she gives a little shake as if to say chalo (let's go)."
On his longest walks yet from Uttarakhand to Kerala covering the four holy sites of India — Badrinath, Dwarka, Jagannath Puri and Rameswaram — Yati is excited about what is before them. He says that it will take him another 10 months to complete his Chardham expedition.
"I wanted to explore further down south and see the variety of cultures there. I have enjoyed 
every bit of my walk so far and Buttercup, too, has been very enthusiastic about it," he says. 
Recalling an anecdote when he was met with kindness on the road, Yati says, "I was warned about language barriers in the southern part of the country. However, I decided to learn Telugu when I entered Andhra. In my broken Telugu in Visakhapatnam, I tried to explain to a shopkeeper how my parcel would be delivered here. He laughed and uttered broken Hindi so that it was easier for me to understand."
How he manages his travel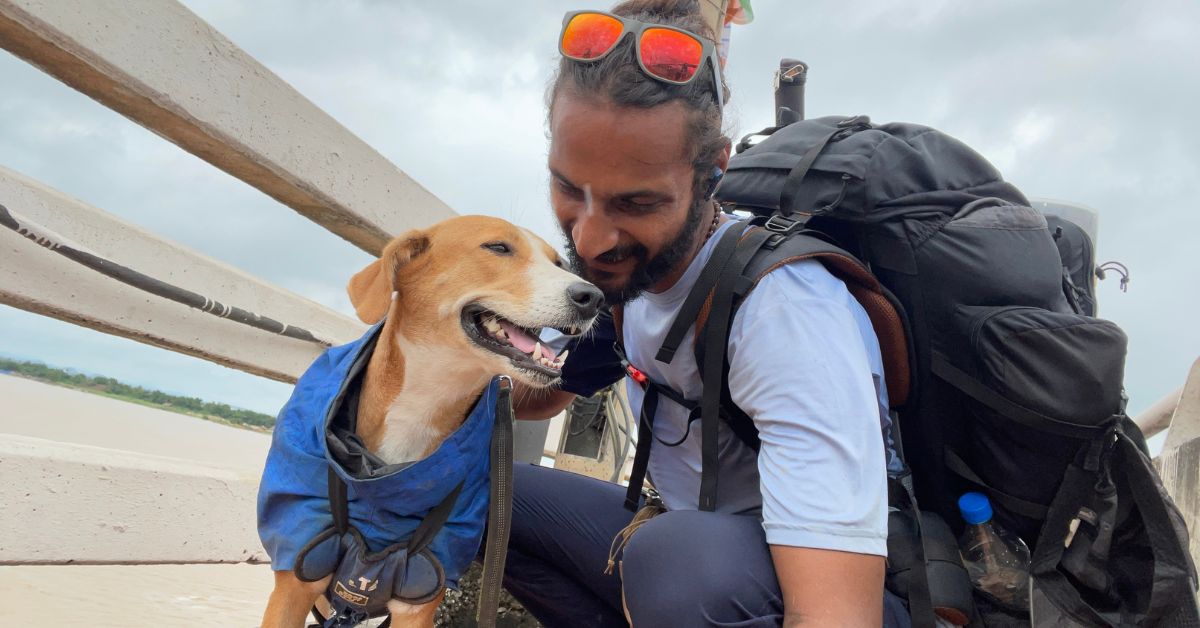 Talking about the challenges that he faces while on his walking expeditions, he says, "The people in India have largely been wonderful and helpful to me. The only issue that I face sometimes is finding pet-friendly hotels to stay in." 
He adds, "Sometimes the hotels I book say that they are pet-friendly but end up asking me to keep Buttercup outside the room. In such cases, it becomes a little difficult to find another hotel." 
On how technology is his other companion, he says, "Sometimes, Google Maps does not work or show the wrong distance. Even if the map shows fewer kilometres, it can become at least a half hour more of walking." 
"I also try to travel as light as I can with minimal clothing and essentials like medicines and toiletries. I also try to avoid using gadgets while walking to save as much battery as I can," he adds. 
Reflecting on his journey so far, he says, "Many people I come across during my journeys inquire about the reason behind these walks. It seems people generally think there's a grand plan behind every action we take. But you know what? To me, life's purpose is just, well, to live. I lucked out being born in a country that's got it all – mountains, deserts, seas, oceans – you name it. My only wish is to feast my eyes on them." 
Recalling the initial reaction of his friends and family, he says, "Everyone thought that I had lost my mind and were pretty sure that I would quit after two days of walking. But, I did it. I walked for 8 days and reached Kedarnath. The feeling is indescribable as I was so overwhelmed by what I had achieved. I knew then that I would not stop now."  
Yati has also been documenting his journey on Instagram and has an earnest following of 53,319 thousand people. 
"People have been loving our journey together and some brands have been generous enough to sponsor us. There is a UP-based gentleman who sponsored Buttercup's food for the Chardham journey," he informs.  
Since childhood we have all heard our fathers and grandfathers brag and say "duniya dekhi hai" (I have seen the world), well, with such diversity in India, they might have just peeked through the keyhole of the world's door. However, not for Yati, as he and Buttercup have literally been seeing the world, one town at a time. 
(Edited by Padmashree Pande)